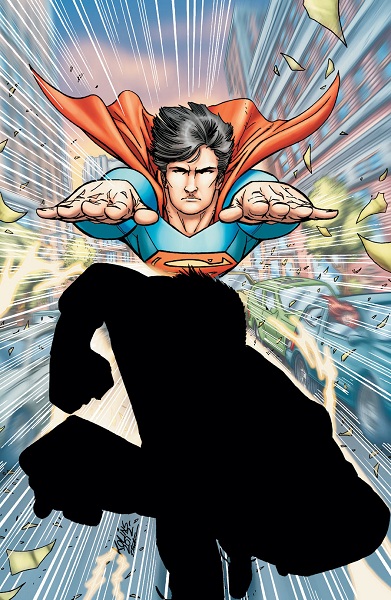 It seems kind of silly putting a question mark in the title, but really, who else is an old friend running with Superman going to be?
From DC's January Solicitations:
SMALLVILLE SEASON 11 #9
Written by BRYAN Q. MILLER • Art by JORGE JIMENEZ
Cover by SCOTT KOLINS
On sale JANUARY 9 • 40 pg, FC, $3.99 US • RATED T
The first time in print for these digital-first stories.
An old friend returns to the series with a new look. What terrible secret is he carrying?
The secret of "Earth Two" Chloe is revealed.
Smallville's scarlet speedster is Bart Allen, played by Kyle Gallner. When he first appeared in season four's "Run," commercials advertised him as the Flash, but when he returned in the sixth-season episode "Justice," he was given the code-name Impulse. (Green Arrow remarked that Bart "didn't get to pick his nickname.")
This version of Bart was a troubled teen who used his speed for petty theft until an encounter with Clark Kent put him on a more heroic path. He later joined forces with Green Arrow, Cyborg and Aquaman in what became the Justice League.
Presumably the silhouette is there to put off revealing his costume (unless DC has decided to replace Bart with Barry or something, but that seems unlikely), though it's conceivable the "old friend" is another character entirely.
I haven't been following the series, so I'm not 100% certain how the digital/print schedule works out, but my understanding is that every three digital chapters are collected in one print issue, so we'll probably see this story on ComiXology in December.
Share