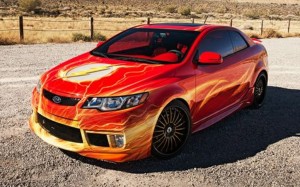 Today at the SEMA (Specialty Equipment Marketing Association) trade show in Las Vegas, Nevada, Kia Motors and DC Entertainment finally revealed their long-awaited Jim Lee designed Justice League-themed cars and for the most part they look pretty excellent. The project was created to support the "We Can Be Heroes" campaign to feed the starving in the Horn of Africa (Djibouti, Eritrea, Ethiopia and Somalia).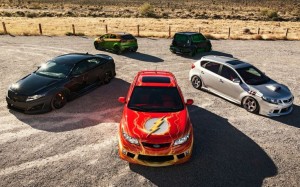 The Flash-themed "Forte" is just one of five cars on showcase today. Including the previously released Batman-themed "Optima", they also showed us a Green Lantern-themed "Soul" an Aquaman-themed "Rio" and a Cyborg-themed "Forte". After the cars have all been introduced (three more remain to be seen) and have made the rounds at various cons and auto shows they will be going up for auction with all of the proceeds going to the "We Can Be Heroes" campaign.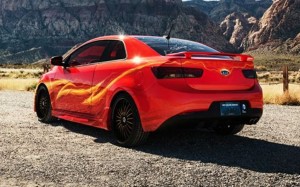 As for the car itself, I am not a huge car person. I ride a bike everywhere I go so while I know some basic knowledge about cars I'm not like my brother who is like a car encyclopedia. On that same note this car is slick as all get out. Visually stunning. I've also never seen lightning applied to a car so *ahem* tastefully. The embossed hood takes the cake though. I wish they would have found a way to work in the "hood ornaments" on our scarlet speedsters' cowl but on second thought that might be a bit much.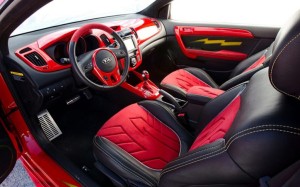 While the interior does look a bit cheesy with the lightning cut out on the side panel in the pictures I think it may be one of those things that just looks better in person. The lightning designs on the seats however look to be inspired by the new electric seams on Barry's New 52 suit and it looks kind of cool.
So what do you all think of Kia and DC's joint effort? Let us know in the comments below.
Special thanks to Automotive.com for the pictures of The Flash "Forte".
As always thanks for reading,
Share