The next digital chapter of Smallville Season 11: "Haunted" guest-starring Impulse arrives on ComiXology on Friday.
Today, two more issues of the 1987-2009 Flash series starring Wally West are available digitally.
Flash #122-123: Keystone City decides that it can no longer handle the cost of property damage from the Flash's battles, and want him to leave town. The seaside town of Santa Marta, California, however, would love to have their own super-hero. And who better than the Flash to be a super-commuter?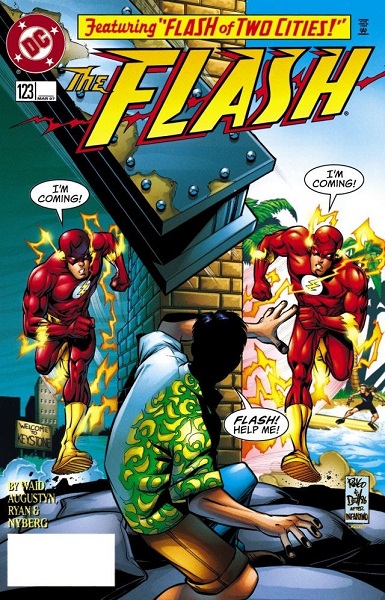 The cover and title are, of course, an homage to the classic "Flash of Two Worlds" in the first Flash #123.
One thing that surprised me here is that, up until now, DC and ComiXology have been re-releasing the series in sequence. After an initial release of a dozen or two issues by theme, they started with #1 and have been working their way forward, filling in and around those issues that have already been released. Last time, they jumped straight from #115 to #120, skipping the last three issues of "Race Against Time" and the "Final Night" tie-in issue. I wondered if they might be jumping back to fill in the gap this week, but that isn't the case, at least not yet.
I asked ComiXology about it, and they said that DC simply hadn't sent them those issues yet. I haven't heard back from DC.
Share