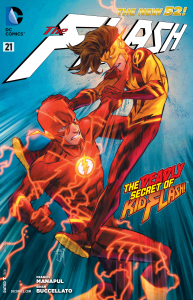 This 21st issue of The Flash is easily the fastest paced story of Barry in the New 52 – in more ways than one!  This is one of the top meetings we've been looking forward to in the New 52, and the payoff is exceptional here.  Barry meets Bart…and there's a lot more to THIS story, so let's get straight to the review of this excellent installment of The Flash.
SOME SPOILERS AHEAD – BE SURE TO READ THE ISSUE BEFORE MOVING FORWARD!
Barry has been tracking down the Speed Force Killer, still without a clue as to who the killer is except for two things: all the killings have a connection to the Speed Force, and the killer is using a form of Barry's insignia!  He is tracking down Kid Flash…not as a suspect, but as his only lead for the trail of this ruthless murderer.  The story makes liberal use of splash pages as we see the REAL race-of-the-century with Flash vs Kid Flash across the globe!  When they do meet we get some additional glimpses into Kid Flash's (future) history and the nature of his powers. And, we see some great side stories between Iris and Daniel West, between Patty and Barry…and we get one more glimpse of the true Speed Force Killer…the Reverse Flash!
Francis Manapul and Brian Buccellato deliver another excellent chapter in the New 52 history of the Flash.  Their use of splash pages makes perfect sense here, adding to the impact of super speed times two.  The additional glimpses into Kid Flash are tantalizing, giving us important new information without spilling too much too early.  And, I really loved the nod-with-a-twist given to the old "Barry's late again" trope, in doing so highlighting the difference between the New 52 Patty and the Silver Age Iris in how they each deal with this situation.  I truly enjoyed this issue of The Flash – whether you are a Barry or Bart fan (or both) this is a great issue to grab!
Share