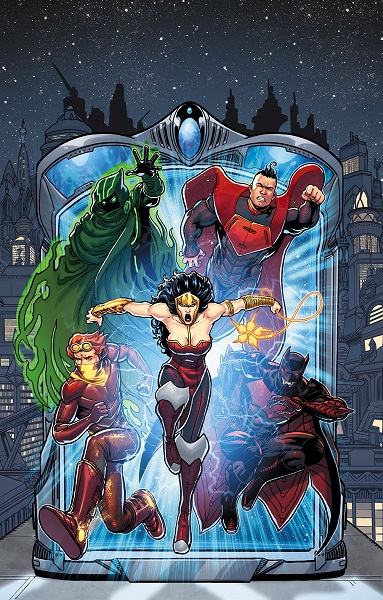 DC has released a handful of October covers through Newsarama, including the first issue of the Giffen/DeMatteis/Maguire Justice League 3000 featuring future versions of Superman, Wonder Woman, Batman, Flash and Green Lantern; and the second issue of Forever Evil, featuring Captain Cold, Lex Luthor, Sinestro and other villains including…Batman?
The Flash of Justice League 3000 has previously been discussed; while DC isn't revealing the identity of any of the future Leaguers yet, we do know he's not Wally West or Lightning Lad.
Update: The full solicitations are up.
JUSTICE LEAGUE 3000 #1
Written by KEITH GIFFEN and J.M. DeMATTEIS
Art and cover by KEVIN MAGUIRE
1:50 B&W Variant cover by KEVIN MAGUIRE
On sale OCTOBER 2 • 32 pg, FC, $2.99 US • RATED T

Don't miss the debut of the new series starring the heroes of today—tomorrow! But what are they doing in the year 3000? And who (or what) brought them there? Get ready for a double dose of wonder as only the stellar creative team of Keith Giffen, J.M. DeMatteis and Kevin Maguire can deliver!
As for Forever Evil, October also sees the launch of the Forever Evil: Rogues Rebellion miniseries. MTV Geek unveiled the first cover and interviewed Brian Buccellato about the series last week.
FOREVER EVIL #2
Written by GEOFF JOHNS
Art and cover by DAVID FINCH and RICHARD FRIEND
1:25 Villain A variant cover by ETHAN VAN SCIVER
1:25 Villain B variant cover by ETHAN VAN SCIVER
1:25 Villain C variant cover by ETHAN VAN SCIVER
1:200 B&W Variant cover by DAVID FINCH and RICHARD FRIEND
On sale OCTOBER 2 • 32 pg, FC, 2 of 7, $3.99 US • RATED T
Combo pack edition: $4.99 US

The villains have taken over the world! The Teen Titans fight back! Can the inexperienced teen heroes do what the adults could not? (Answer: Nope. It goes very poorly.)
Share