The latest issue of The Flash comes out this week, featuring the long-awaited reveal of the new Reverse-Flash's identity. DC has a preview of the issue available.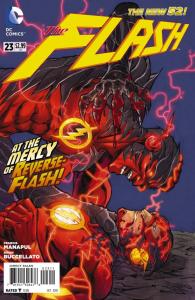 Reverse-Flash wants all the power he can get his hands on. But why does he need a monopoly on the Speed Force? Barry Allen makes a desperate attempt to save Iris from this ruthless killer —and you can't be sure who will be left standing by this issue's end! Plus, learn the shocking true identity of Reverse-Flash! From the New York Times bestselling creative team of Francis Manapul and Brian Buccellato, THE FLASH #23 speeds into stores this Wednesday.
Update: Team books!
Justice League #23 wraps up "Trinity War."
TRINITY WAR CHAPTER 6! Trinity War concludes! But that doesn't mean all ends well for our heroes. The secret behind Pandora's Box is revealed and it means the end of the Justice Leagues!
Teen Titans #23 is also out, and DC has a preview of that as well.
Kid Flash is being pulled into a mysterious vortex, and his cries for help set off a chain reaction. Each Titan on the scene lends their strength to the last, but will it be enough? Wonder Girl, Bunker, Beast Boy, Solstice and then Superboy all become part of the tug of war – with Kid Flash stuck in the middle! (Scott Lobdell, Robson Rocha, Wayne Faucher)
And in digital back-issues, the Dark Flash saga continues.
Flash #153 Flash confronts the Folded Man, whose suit allows him to switch between 2D, 3D and 4D space. In the mean time, Linda finds herself in a parallel world where Walter West is wanted by the law. (summary from comics.org)
Mark Waid, Brian Augustyn, Paul Pelletier, Jose Marzan, Jr.
Share