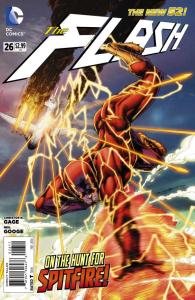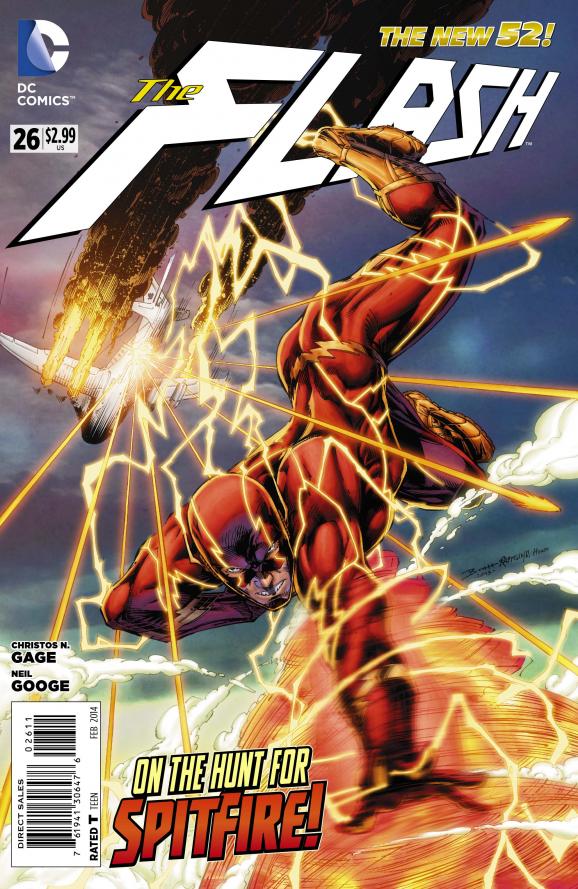 Comics are out a day early this week to avoid New Year's Day, including The Flash #26, a done-in-one story by Christos Gage and Neil Googe. You can read a preview of the issue at DC Comics' blog.
Barry Allen is hot on the tail of Spitfire after investigating the death of his mentor, Dr. Carlson. But to catch the villain responsible, The Flash must figure out how to use his powers in the one place where they do him little good: the sky! Spitfire is sure to escape unless The Flash can go airborne! A special standalone issue, THE FLASH #26, written by Christos N. Gage and illustrated by Neil Googe, will be available in stores on December 31.
Update: I forgot to include Teen Titans #26, featuring the continuing exploration of the New 52 Kid Flash's origin.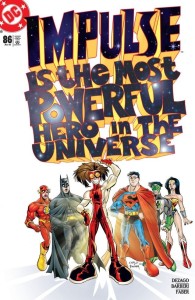 Digital re-releases continue for Impulse on ComiXology. Impulse #85 was already up, having been released as part of the "World Without Young Justice" crossover. Bedlam, the genie from World Without Grownups, has been forcing Bart's "time scouts" to alter history. But his spells are all aimed at blocking Impulse…not at Kid Flash!
Today, DC releases Impulse #86. Bart Allen has gained the powers of a genie, and sets about creating the perfect world! But do we really want a reality designed by someone with the attention span of a fruit fly? Todd Dezago and Carlo Barberi.
Share