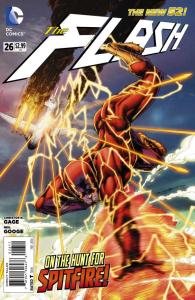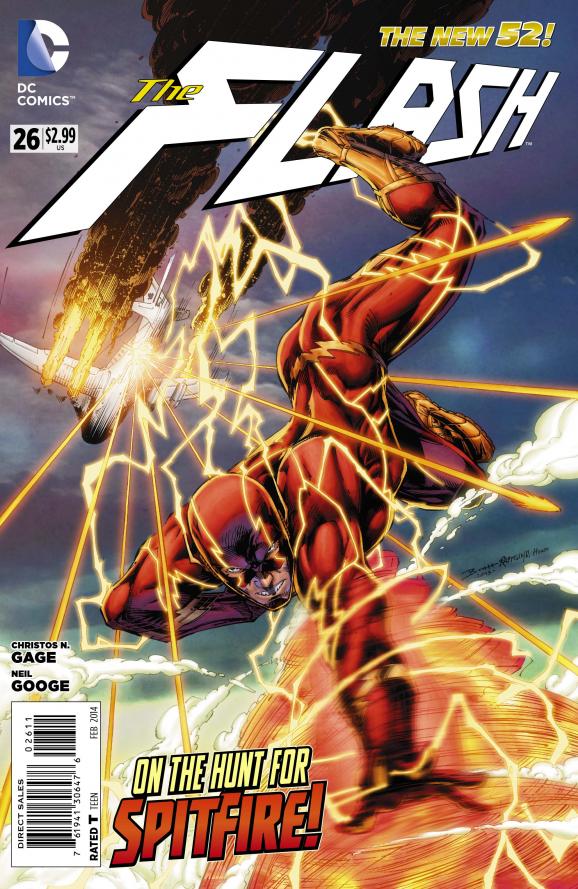 Christos Gage has noted in interviews that he is a long-time Flash fan, having grown up with Barry Allen.  His one-shot issue shows how well he knows Barry, both old and new (52), and gives us a wonderful story to take into the new year.
LIGHT SPOILERS ONLY
This story centers on Barry's battle with Spitfire, a thrill-seeking former stunt pilot who specializes in stealing dangerous pahtogens in ways most people would find impossible.  In one of her latest heists, she and her crew killed someone who meant a lot to Barry, and he is determined to track her down no matter what.  This battle takes the Flash out of his usual element…and into the air!  This is a one-and-done, so you'll get the whole story here…but you need to grab the issue to find out how this excellent story turns out.
Gage gives us both the famliar and the highly inventive in this story – we see Flash's ability to vibrate through solid objects (the upside and the downside of that ability), and we see how he manages to use his powers in new ways to track down Spitfire in the atmosphere.  As a long-time Barry fan (from the Silver Age days), this was a very welcome story…one that gives a slight Silver-Age twist while keeping it well-grounded in the New 52.  The artwork by Neil Googe (with colors by Wil Quintana) gives the Flash's costume a slightly more organic/less "armor-y" look, but keeps the transformation from Barry to Flash consistent with the New 52 look, and the art works well for this tale.
I thoroughly enjoyed this issue.  If you want more storytelling by Christos Gage, be sure to check out his work on Justice League Beyond and Bloodshot and H.A.R.D. Corps (I can highly recommend both).
Share