New Flash-related comics this week:
THE FLASH #30
An all-new creative team makes its debut to show the deadly consequences of The Flash's speed powers. During the traumatic events of FOREVER EVIL, Central City suffered the worst that the Crime Syndicate could dish out. Now The Flash has returned to make things right, but there are limits to what even the Fastest Man Alive can do!
Written by Robert Venditti and Van Jensen, art and cover by Brett Booth and Norm Rapmund.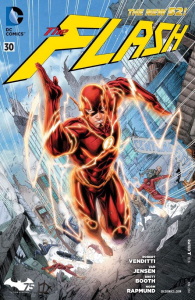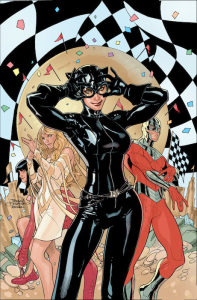 CATWOMAN #30
"The Race of Outlaws" begins! Despite her best efforts, Selina Kyle just can't stop being Catwoman. What's dragged her back into the catsuit? A globe-trotting contest that will have her competing to earn the prize for being the best thief in the world. But watch out, Catwoman – there's no honor among thieves!
Written by Ann Nocenti, art by Patrick Ollife, cover by Terry Dodson and Rachel Dodson.
Note the presence of Rogues Mirror Master and Glider on the cover.
And in digital back issues, we have The Flash #186: Part 3 of Crossfire. The Thinker has assimilated everyone in Keystone City to create a giant human/cyborg supercomputer — including the Flash!
Written by Geoff Johns, art by Scott Kolins and Doug Hazlewood, cover by Brian Bolland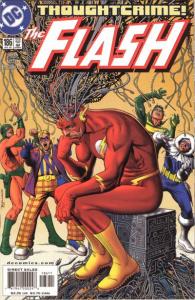 Share