Hey Speed Readers,
So a couple days ago Wizkids announced via ICV2 their very first exclusively Flash-themed HeroClix set. The Flash is scheduled for release in the Fall and Wizkids is going all out for this set. Not only will we be getting a standard 68 piece set, we can also look forward to a 24 piece Primer Gravity Feed set featuring rare and unique sculpts (kind of a sneak peek/sampler) and a 6 piece Fast Forces set spotlighting the Rogues to kick things off. Take a look after the jump.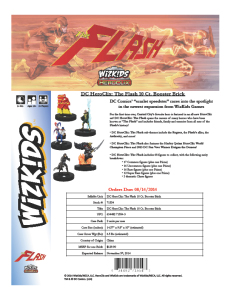 Booster packs come with five figures at a time and retail for $12.99. They will overall contain 68 figures from all eras of the Flash's history, including the Harley Quinn HeroClix World Champion Piece, and the 2013 DC Fan Vote Winner, Etrigan the Demon.  Sub-themes include the Rogues, the Flash's allies, and the Authority among others. MSRP for an actual 'Clix Brick (essentially a case) is $129.90.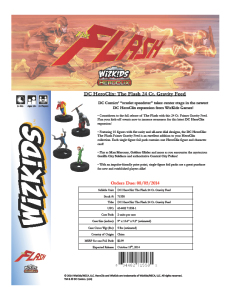 The Flash Primer Gravity Feed features 10 figures with flat rarity and all-new dial designs. Each single figure foil pack contains one Heroclix figure and character card. Play as Max Mercury, Golden Glider, and more as you encounter the mysterious Gorilla City Soldiers and authoritative Central City Police! MSRP is $2.99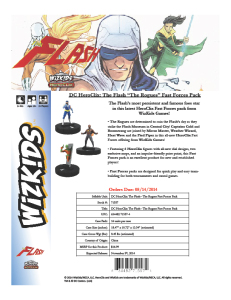 "The Rogues" Fast Forces Pack will include 6 figures from the Flash's most persistent and famous foes (Captains Cold, Boomerang, Mirror Master, Weather Wizard, Heat Wave and the Pied Piper), as well as two exclusive maps.  MSRP is $16.99.
Now for those not completely familiar with HeroClix and the lingo. HeroClix themselves are little miniature figures similar to Warhammer 3000 or any popular tabletop miniature hobby shop game. While at first they would simply issue a set of 60 or so they began to try and make the hobby more accessible by offering starter sets called Fast Forces: packs of 6 or so different popular 'Clix characters packed together to get one started. The 24 pack Primer Gravity Feed was also created to kind of build hype for the forthcoming full set and can be more appealing to the impulse purchaser by offering better chances to get more popular characters and dials.
For example, purchasing a booster pack will give you a choice of 5 random characters from the main 68 character set. Gravity Feeds are basically Counter Top Displays that enable people who just want a clix of the main characters of the pack to have a better chance to avoid picking up any random ancillary characters.  Typically the 24 characters in the Gravity Feed pack are figures with slightly different sculpts/stats than the main set and are generally more fan-favorites.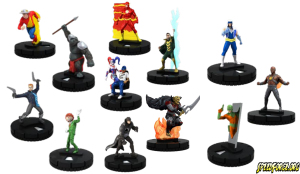 Golden Age Flash, Captain Boomerang II (Owen Mercer), more Gorilla City warriors (we received two a few sets back), Ragdoll I (Peter Merkel Sr.), Harley Quinn, Midnighter, Etrigan the Demon, and New 52 versions of Barry, Weather Wizard, Captain Cold, Mirror Master and Heat Wave were the first figures previewed with Max Mercury, and Golden Glider also mentioned.
I used to be a pretty big Flash and Flash-related 'Clix collector but I've slowed down quite a bit in the last year or so as I've expanded my focus to DC Direct/DC Collectibles/DC Universe Classics 6-7 inch figures. Not that I don't dig these guys as well but some of the rarer pieces from a set can go as high as 50 or 60 bucks. That is not an easy pill to swallow for a figurine that looks right at home in a vending machine. In fact the 'Clix figurine that finally got me to take a break from collecting was the Super-Rare Flash 050 from last year's Teen Titans set. It currently goes for about 20 bucks or so on eBay. For that same price I could have an articulated action figure that will further flesh out my main collection. Or to be a bit more practical that could easily get me a week's worth of meals. Honestly the best thing about collecting 'Clix was getting characters that I knew didn't really have a golden snowballs chance in hell of getting created in 6 inch form. If one were attempting to collect any semblance of a complete DC Universe of characters HeroClix would be the place to begin, with the Justice League Unlimited toyline a very distant second. I've had a nearly complete team of Rogues for years in HeroClix form. I don't know if I will ever be able to say the same about DC Collectibles or Mattel. 
While I'm super-excited for this set and that the Flash is finally getting to be a headliner, the amount of money it would take for me to round up this whole collection is something that I'm not prepared to really think about yet. Then again I'm sure I won't be able to resist cherry-picking updated dials of Max Mercury, the first of Golden Glider (who is crossing their fingers for a classic version as well?) and updates for just about every Rogue. I think the last Captain Cold we got was like 5 years or something ago.
You can look for the Primer Gravity Feed set on October 15, 2014 and the official release of the full set and Fast Forces will follow close behind on November 5, 2014. 
So who will be taking the plunge and attempting to pick up all 68 of the official Flash pack, the 24 Gravity Feed figurines and the Fast Forces 6-pack? Anyone else who will be off to the side sadly cherry-picking what looks to be an awesome set?
Please let us know in the comments below and thanks for reading,
Share