DC Comics' August solicitations are up, including Flash #34…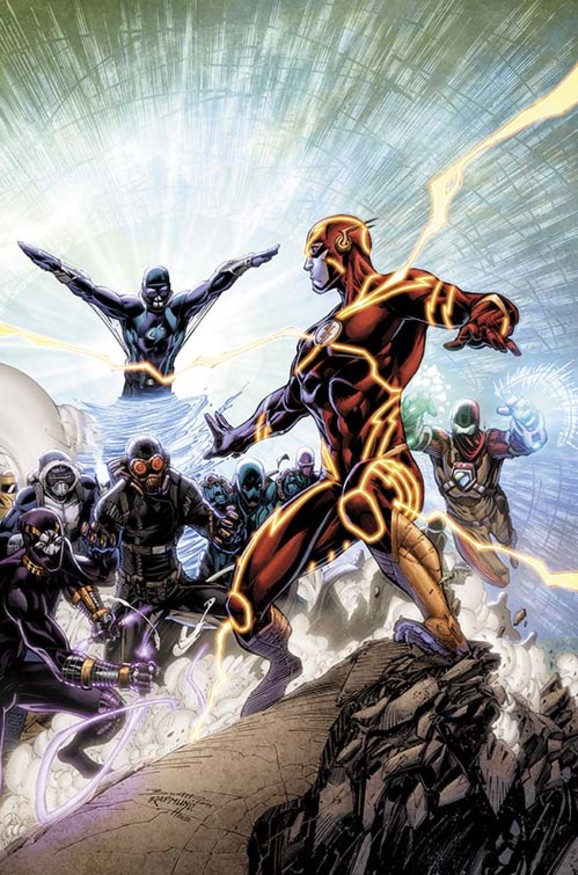 THE FLASH #34
Written by ROBERT VENDITTI and VAN JENSEN
Art and cover by BRETT BOOTH and NORM RAPMUND
DC UNIVERSE SELFIE variant cover
On sale AUGUST 27 • 32 pg, FC, $2.99 US • RATED T
Time is getting closer as Future Flash reaches the point that broke his spirit – Wally West's death – while Wally meets his uncle Daniel, the Reverse Flash, and Barry Allen is trapped in the middle!
Selfie variant? Um…okay…
Also of note: Grant Morrison's "Multiversity" miniseries finally launches!
In collected editions, we have a date for the Forever Evil: Rogues Rebellion collection. It's going straight to paperback rather than hardcover-first.
FOREVER EVIL: ROGUES REBELLION TP
Written by BRIAN BUCCELLATO
Art by PATRICK ZIRCHER, SCOTT HEPBURN and ANDRE COEHLO
Cover by SCOTT HEPBURN
On sale SEPTEMBER 24 • 160 pg, FC • $16.99 US
The Rogues call no man boss, but the threat of the Crime Syndicate isn't leaving them much choice! Will they fall in line, or refuse and risk certain death? How can the Rogues take on the Crime Syndicate together? Collected from the 6-issue miniseries, plus THE FLASH #23.1: ROGUES.
DC keeps going back and forth as to whether the Grodd one-shot is in this collection or Flash vol.4: Reverse. It would make a lot more sense to put it here.
Share