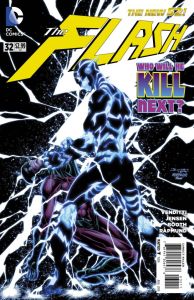 Flash #32 arrives in stores this week. The future Flash continues working his way back into the past, this time paying a visit to Captain Cold, while in the present day, Barry Allen investigates the theft of super-villain weapons from police lock-up during the Crime Syndicate's reign. Plus: What's up with the speed force? Van Jensen, Robert Venditti, Brett Booth, Norm Rapmund. Preview at Complex.
"Race of Thieves" continues in Catwoman #32, with Glider and Mirror Master guest-starring.
Justice League #31: The new Power Ring debuts. Geoff Johns, Danny Miki, Ivan Reis
And in digital back-issues, DC is adding two more issues to the backlist: Flash #239 and Flash #240, parts 2-3 of "Fast Money." Could cashing in on his fame be the way to solve Wally West's money problems? Probably not, if Spin turns public opinion against him. And what's Grodd doing in all of this? Tom Peyer, Freddie Williams II.
Share