Welcome to the latest installment in our annotations of the collected edition of The Trial of the Flash!  A while back, we analyzed related stories leading up to the release of Showcase Presents: The Trial of the Flash.  In addition, we interviewed author Cary Bates about the buildup and the Trial itself, plus showed you what wasn't included in the collection.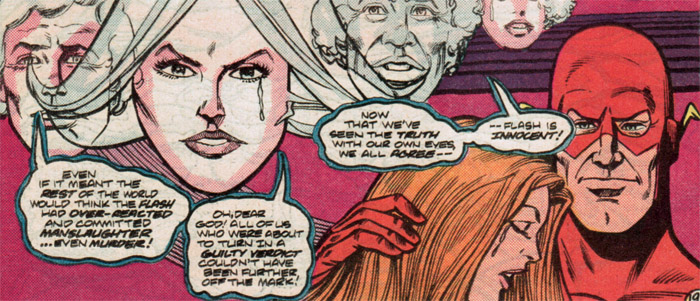 IN THIS ISSUE: Death in the Afternoon!
Links to original artwork, scans and research are included throughout this post.  For definitive legal analysis of the story by Bob Ingersoll, go here.  Tom vs. Flash Podcast links here, including these issues.  As always, huge thanks to the DC Indexes. See you after the jump!
COVER by Carmine Infantino and Klaus Janson. This issue hit stands the same day as Crisis on Infinite Earths #5, featuring this ominous sequence (from page 5, via Comic Art Fans):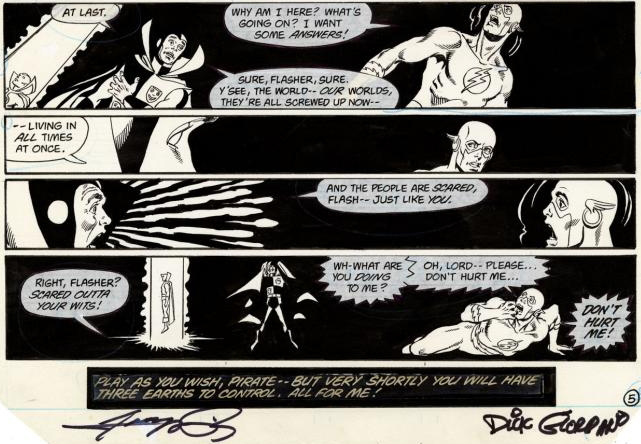 PG 1: This 1985 New York Times article showcases the year's tiny video cameras.
PG 3: The 1982 Knight Rider episode "The Final Verdict" features a shy accountant who can help clear a "friend" of murder, similar to this issue.
PG 4: Last appearance of Frye's Captain Incredible/Invincible identity.
PG 11: Here is a link to a Van Gogh style Jay Garrick.
PG 12: If a jury cannot return a verdict, the judge may declare a mistrial. According to Cornell University Law School, the government may retry any case on which the jury could not agree. "The moment of truth" is a bullfighting term for the point at which the matador kills the bull. It is also the title of a 1965 Italian film about bullfighting. The idiom was introduced to the English language by Ernest Hemingway in his Death in the Afternoon (1932, review via New York Times).
In addition to this being the climax of the Trial, the series and (seemingly) Barry Allen, this reference also fits with Flash as matador and the theme of death. This was also highlighted by Geoff Johns-via-Nightwing in 2004.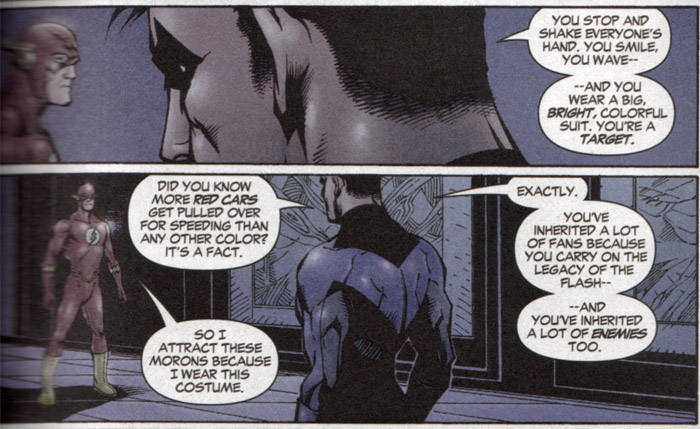 From the NYT review:
Bull-fighting is thus presented as an art heightened by the presence of death and, if the spectator can project himself into the matador's place, in the terror of death. For even the best matadors have their moments of fear–even their days and seasons of fear.
PG 13: According to this Orlando Sentinel article from 1985 about the Sanford, FL police department upgrading to a "top-drawer, first-class computer system,":
The system will store information on incident files, arrests, suspect files, complaints, department and evidence inventory, and patrol car maintenance. It also will store research information on city problems related to law enforcement.

For example, the computer will be able to show traffic patterns or where the most traffic accidents occur.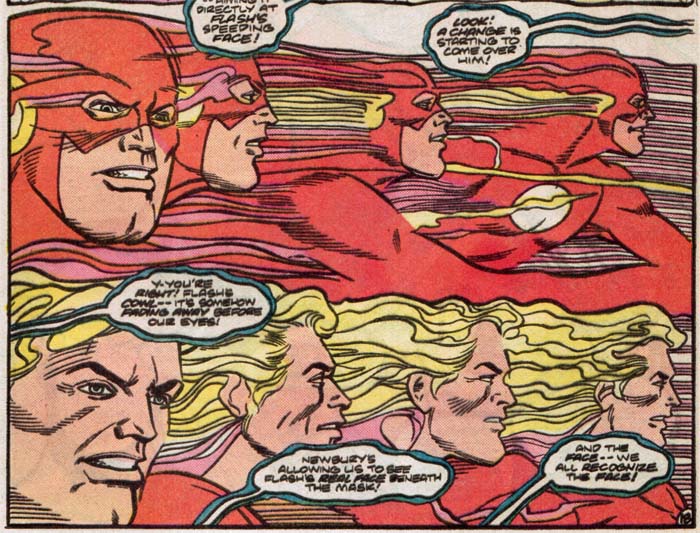 The original art for page 17 can be seen here, page 18 here and page 21 here.
See you next weekend!
Share