DC comics coming up in January both in the New 52 and and beyond: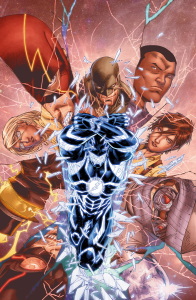 THE FLASH #38
Written by ROBERT VENDITTI and VAN JENSEN
Art and cover by BRETT BOOTH and NORM RAPMUND
THE FLASH 75 Variant cover by HOWARD PORTER
On sale JANUARY 28 • 32 pg, FC, $2.99 US • RATED T
The all-new, all-murderous Flash is posing as Barry Allen while the real Scarlet Speedster is trapped in the Speed Force!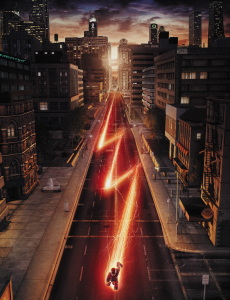 THE FLASH SEASON ZERO #4
Written by ANDREW KREISBERG, BROOKE EIKMEIER and KATHERINE WALCZAK
Art by PHIL HESTER and ERIC GAPSTUR
Photo cover
On sale JANUARY 7 • 32 pg, FC, $2.99 US • RATED T • DIGITAL FIRST
In the stunning conclusion of our first story arc, The Flash squares off against thousands of Central City citizens under the control of the dastardly Mr. Bliss! Can the S.T.A.R. Labs crew help Barry end Bliss's reign of terror before it's too late?
And don't forget that the Flash takes over more than 20 variant covers across DC's line to celebrate the speedster's 75th Anniversary!
Also, upcoming collections include: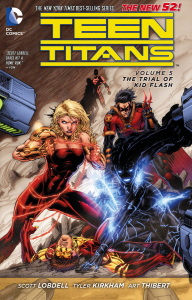 TEEN TITANS VOL. 5: THE TRIAL OF KID FLASH TP
Written by SCOTT LOBDELL
Art by ANGEL UNZUETA, TYLER KIRKHAM, BARRY KITSON, ART THIBERT and others
Cover by BRETT BOOTH and NORM RAPMUND
On sale FEBRUARY 4 • 256 pg, FC, $17.99 US
As seen in FOREVER EVIL, the Teen Titans have taken a fall through time itself! Along the way, they learn the secrets of Bart Allen's past – but can they stop his evil future self? Find out in these stories from issues #24-30 and ANNUAL #2.

Share