DC has announced the theme for January 2015's variant covers, and in honor of the Flash's 75th Anniversary, the theme is: The Flash!
Each of the 22 covers is an homage to a classic comic book cover, made a little…Flashier.  And the variant for The Flash #38 is, appropriately enough, a Howard Porter take on Flash of Two Worlds!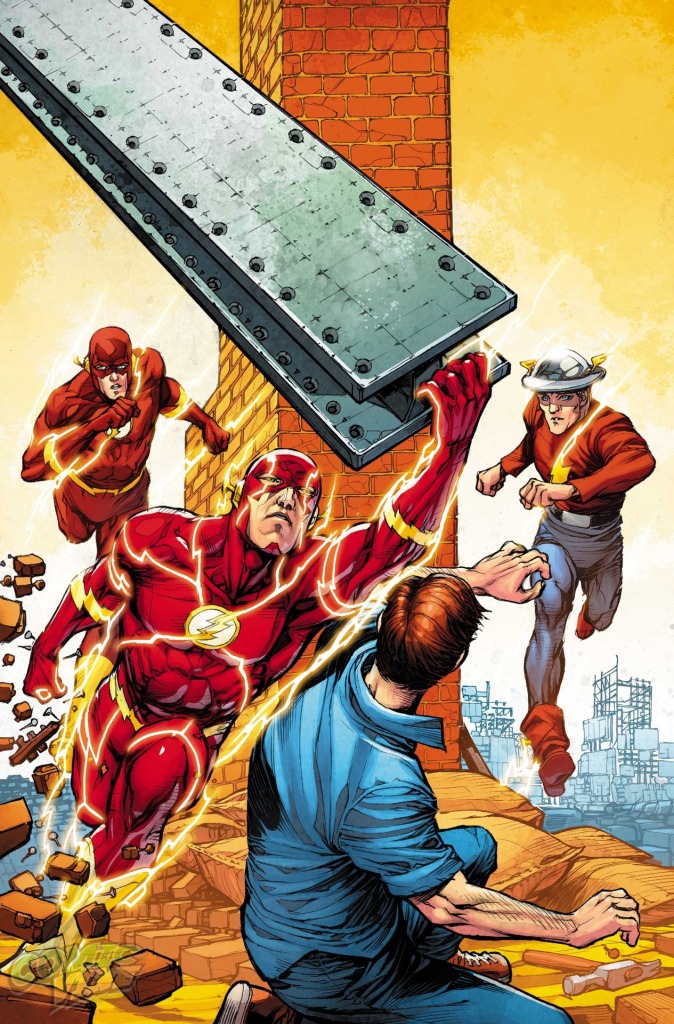 Images via CBR, IGN, ComicVine, Newsarama and HitFix. Here's the list of credits according to Newsarama:
Batman/Superman #18 by Jim Lee
Action Comics #38 by Dave Johnson
Aquaman #38 by Steve Rude
Batgirl #38 by Aaron Lopresti
Batman #38 by Tony Daniel & Tomeu Morey
Batman & Robin #38 by Dave Bullock
Batman/Superman #18 by Jim Lee, Scott Williams, & Alex Sinclair
Catwoman #38 by Ty Templeton
Detective Comics #38 by Josh Middleton
The Flash #38 by Howard Porter & HiFi Color
Harley Quinn #14 by Bruce Timm
Grayson #6 by Jock
Green Lantern #38 by Dog Mahnke & David Baron
Green Lantern Corps #38 by Bill Sienkievicz
JLU #8 by Karl Kerschl & Dave McCaig
Justice League #38 by Tony Harris
Justice League Dark #38 by Kelley Jones
Justice League United #8 by Karl Kerschl and Dave McCaig
New Teen Titans #6 by Michael Allred & Laura Allred
Sinestro #9 by Ethan Van Sciver & Alex Sinclair
Supergirl #38 by Michael Avon Oeming & Rico Renzi
Superman #38 by Kevin Nowlan
Superman/Wonder Woman #15 by Ivan Reis & Alex Sinclair
Wonder Woman #38 by Terry & Rachel Dodson
Check out the full gallery after the jump. Which ones are your favorites?
Share