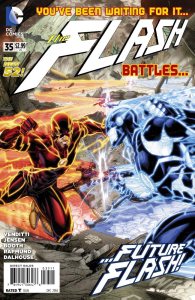 This issue of THE FLASH brings us the big battle between Future Barry and the Barry Allen we know in the New 52. As you can guess from the last time they met (5 years in the future in FUTURES END: THE FLASH), this is going to be BIG…for a lot of reasons. But, if you think you knew how this one would end…well…you may have another thing coming!
LIGHT SPOILERS ONLY
Future Barry appears in our time, realizing that this is finally his chance to heal the wound in the Speed Force, the one that has been causing him to "lose time" all these years and that could end reality as we know it. Problem is, to seal that wound someone has to die…his present-day self! He captures present Barry and takes him to the "scene of the crime", where Elias' monorail crashed out of the Speed Force. That incident ripped a hole in the Speed Force itself, a hole that Daniel West went through to become the Reverse Flash. Future Barry's plan is to kill his present day version, releasing enough energy into the Speed Force to heal that rupture…but present day Barry isn't ready to give up just yet, and the battle is on!
This is a classic battle, drawn expertly by Brett Booth, inked by Norm Rapmund and colored by Andrew Dalhouse. The characters are fantastic and the action is over-the-top amazing.
Now, I haven't mentioned who steps in next…there is a third participant in this battle! If you can't guess this one you haven't been reading FLASH much lately (and why is that? You're really missing a great story here!). The battle ends tragically for one of the people here…and no one really gets what they want. In fact, if you thought this would be one of those wrap-it-up-and-go-to-the-next-arc stories you'd be very wrong.  The real story is just beginning here!
If you read this issue and have concern about what happens to everyone, just keep in mind this line from our third fighter during the battle…"Good thing the future isn't a foregone conclusion!" That gives me some hope for future issues – in the meantime this was a very powerful, action-packed story from Robert Venditti and Van Jensen, who are obviously having a lot of fun keeping us guessing. I didn't expect this issue to end this way, and if this were truly the end of the arc I'd have to start shouting a few choice words here…but isn't that the point? This isn't the end…in fact the real fun may just be starting here, and I can't wait to see what's next!
Share