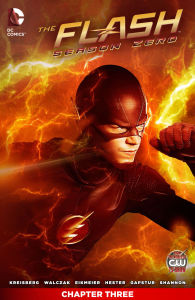 MTV has a preview of the next digital chapter of Flash Season Zero, which goes online on Monday — just a day before the TV show begins!
The story takes place between episodes one and two of the new TV series, and the third chapter – hitting computers everywhere on October 6 – finds the now superpowered Barry Allen trying to stop a breakout from the Central City Zoo, all while trying to protect his secret love Iris West and not revealing his secret identity.
Written by Andrew Kreisberg
Script by Brooke Eikmeier & Katherine Walczak
Art by Phil Hester & Eric Gapstur
Color by Kelsey Shannon
You can read chapters one and two at DC's various outlets (ComiXology, Google Play, Kindle, etc.) right now, or head down to your local comic shop for the print edition of Flash Season Zero #1, which collects the first two chapters of the series.
Share