One of The Flash TV series' mysteries is Barry Allen's benefactor at S.T.A.R. Laboratories, Harrison Wells. He's got secret abilities, secret knowledge, a secret agenda, and only the vaguest of backstories, and if he's not actually a time traveler, he at least has access to future knowledge.
We ran a poll over the last week asking readers which secret identity they thought was most likely. Here are the results.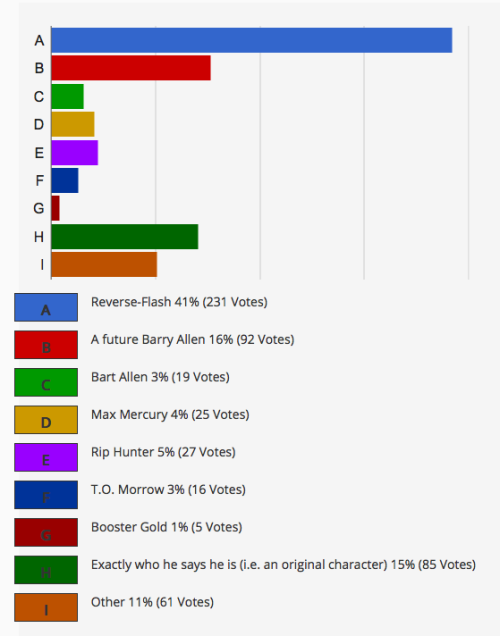 The most popular theory, so far, is that he's the Reverse Flash. A few people wrote in to specify Hunter Zolomon or Eobard Thawne. Future Barry Allen and "exactly who he says he is" were very a close second and third. After that, it was a sharp drop.
Write-ins Abra Kadabra (a time traveler who uses a lot of future technology) and Hunter Zolomon (wheelchair-bound, obsessed with making the Flash a better hero in his own twisted way) were popular, making me wonder how many people would have chosen them if I'd remembered to include Kadabra on the list, or split the two Zooms across separate options.
Full details below. I've combined write-ins where appropriate.
Reverse-Flash
231
41%
A future Barry Allen
92
16%
Exactly who he says he is (i.e. an original character)
85
15%
Rip Hunter
27
5%
Max Mercury
25
4%
Bart Allen
19
3%
T.O.Morrow
16
3%
Booster Gold
5
1%
Other (see below)
61
11%
Write-ins:
Abra Kadabra
13
Hunter Zolomon
11
Pariah
6
Cobalt Blue/Malcolm Thawne
4
The Monitor
4
Metron
3
John Fox
2
Vandal Savage
2
Waverider
2
Doctor Zoom
2
eddies grandson
2
Professor Zoom
1
Future Iris Allen
1
Future Wally West of new 52
1
h. g. wells
1
Mirror Master
1
557 votes total.
Share