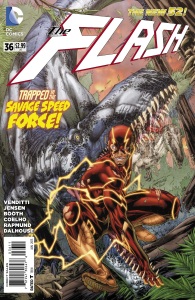 This issue of THE FLASH finds Barry trapped in the Speed Force, future Wally out of the picture (though present Wally does have his moments), and Future Barry taking over in present day Central City. If you thought the big battle between present and future Barry would end this arc, you were very wrong – it's just the beginning. This issue also represents the last artwork in comics from an excellent illustrator, Andre' Coelho, who died far too young at age 35.  Coelho took on the "future Barry" pages while Brett Booth handled present Barry's tale in the Speed Force, in a generally excellent issue of THE FLASH.
LIGHT SPOILERS ONLY
Barry finds himself against a strange amalgam of dangers in the Speed Force, with threats from almost every era surrounding him. He does make a new friend of sorts in Selkirk, who seems to know his way around…but not the way out. Barry isn't much help here, not without his powers, but there is obviously much more to come from this story thread. Meanwhile, future Barry has been miraculously de-aged through all the recent events, and he goes about reclaiming his younger life. Imagine what could happen if you could go back in time, knowing where the future leads, where all your mistakes were made, and with the knowledge that you really can change what happens. He is making amends for lost time with Patty, with Iris, and with Wally as well.
In this issue, we finally get a more sympathetic Wally, at least one who isn't the "troubled youth on the wrong path". He hangs with Barry for the day, and it is almost heartbreaking when he asks Barry for help finding…well, just check it out. We still don't get a large amount of Wally's story here, but it is at least showing promise of going on a better path here. As for future-Barry's path…
You know that part about knowing where your mistakes were made? That plays a BIG role in this storyline, as future-Barry is not through "erasing mistakes"…and you have to wonder just how many "mistakes" he can "correct" without changing forever how the Flash is seen in Central City.
The Future Flash storyline has set Barry against his most powerful adversary – himself. And, it placed our present-day Barry in a truly interesting and challenging situation. Still, I'm hoping we resolve this story before too long. While it makes an excellent story to have an "All-new, All-murderous Flash", I'm anxious to see what happens afterward – how we see Wally develop, how Barry regains his powers, and how his life continues afterward. After all, there should be some serious repercussions to future-Barry's changes in his relationships. It's a good story, though I'm anxious to see what happens next.
Robert Venditti and Van Jensen have a good script here, and Brett Booth does his usual amazing work with the "Barry-In-The-Speed-Force" pages. Norm Rapmund inks the full issue and Andrew Dalhouse colors throughout. But, it's important to note the final work from a tremendous artist who died far too young, Andre' Coelho. His pages (the future-Flash story) showed excellent action, expression and great detail, and it is truly a shame to lose someone so talented and so young. We are sorry to hear of his passing. We'll be back next month with more – please leave your comments below.
Share