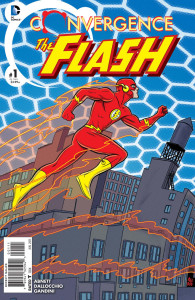 It's pre-Crisis week for DC's Convergence event, and that includes a second Flash miniseries, this one focusing on early 1980s Barry Allen. Crave Online has a preview of the issue, revealing just how Barry ended up back in the 20th Century to be trapped under the dome, and what he's been doing there.
Trapped in Gotham City, Barry Allen has nowhere to run. He fights on, seeking justice as well as a way to save the city, but he faces a Tangent Universe foe who thinks faster than even The Flash can run!
Written by Dan Abnett, art by Federico Dallocchio, colors by Veronica Gandini. Cover by Mike Allred. Variant cover by Chip Kidd.
Update: DC has posted the Convergence Confidential recap pages.
Also: The latest digital chapter of Flash: Season Zero (set in the TV continuity) came out today, continuing the King Shark/Suicide Squad story.
Share