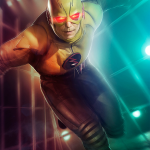 Let's start off with this nifty Reverse Flash promotional image (click to enlarge). And then behind the jump is the official synopsis for upcoming episode "Rogue Air". It's pretty spoilery, as are all these synopses, and won't air until May 12th — so there are two more episodes before it. It's actually the second-last episode of the season.
"Rogue Air" — (8:00-9:00 p.m. ET) (Content Rating TBD) (HDTV)

STEPHEN AMELL, ROBBIE AMELL, WENTWORTH MILLER, LIAM MCINTYRE AND DOUG JONES GUEST STAR — As Wells (Tom Cavanagh) once again gets the upper hand on the S.T.A.R. Labs team, Barry (Grant Gustin) realizes he needs to make a big move and reaches out to an old foe, Captain Cold (guest star Wentworth Miller), for help. Joe (Jesse L. Martin) and Caitlin (Danielle Panabaker) warn Barry that Cold can't be trusted. True to form, Cold has his own agenda that involves the meta-humans trapped in the containment cells. As things seem to be going from bad to worse, The Flash gets reinforcements – Arrow (guest star Stephen Amell) and Firestorm (guest star Robbie Amell). Doug Aarniokoski directed the episode written by Aaron Helbing & Todd Helbing (#122). Original airdate 5/12/2015
I'm really looking forward to seeing the Rogues again! And watching Cold team up with the Flash will be interesting, even if it's only for self-serving purposes…and I think we can guess what they are.
Share