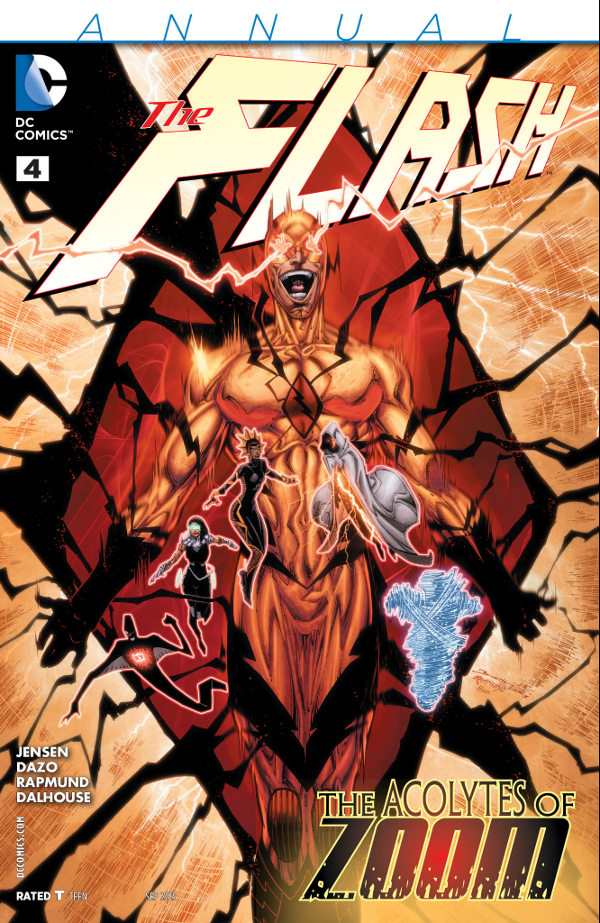 We already know that Professor Zoom is back, and that he has a whole team of super-powered people with him…but where did all these people come from, and how did he put this group together? Writer Van Jensen goes solo on the script to give us the backstory, including the first appearance since FLASHPOINT of…don't worry, we'll get to it after the jump.
SOME SPOILERS AFTER THE JUMP!
…………………………………………………….
Eobard Thawne has mastered time travel, and that's what we see here as he travels as far back as 1520 to the remnants of the Aztec Empire to put together his team. Zoom meets each of his team at a particular low point in their lives, convincing them that only he can help them…and getting them to join his team. The members of that team? We find:
Magali – Considered an Aztec god by many in her time, she has the power to make anyone younger or older with a touch. Her power is critical to putting the team together and giving them the time they need to train.
Xolani – the new imagining of The Folded Man, he was one of many forced laborers in the diamond mines of southern Africa. His abilities are similar to the old Folded Man, but he does not need a special suit to access these abilities (more on that later).
Human Block – if someone spotted her actual name please mention in in the comments below. She is Maori by ancestry, and that plays into her opening scene in 1957 Australia. She can slow her atoms, becoming more dense so that she is harder than steel.
Roscoe (yes, THAT Roscoe, though he isn't referred to as "The Top" just yet) – struck by lightning when he was 5 years old, "every time I start spinning…something bad happens." He is found at the center of an F5 tornado that he created (without meaning to do so) in Oklahoma.
Selkirk – already introduced in prior issues as one of the people trapped in the Speed Force, this is the man whose spine is shattered after a failed attempt to siphon the Speed Force away from Barry Allen.
This diverse group of super-powered beings have one thing in common…the Speed Force itself. Except for Selkirk (who tried to steal the Speed Force), all of these characters are now connected to the Speed Force as the source of their powers. This is a change for some, especially the Folded Man and Roscoe, but it fits in with how several Flash villains (including Grodd) have been depicted since the beginning of the New 52. All now work for Thawne, who notes his own powers by saying, "time doesn't move the same for me as it does for others."
This issue gives us how (and when) Thawne found each of these characters, and how he convinced each that they needed to work with him to stop the "evil" that is Barry Allen. Without spoiling too much, you'll see how Thawne seemingly had a talent for finding each of them at the point where they were most likely to be convinced to join him…and then you'll learn WHY Thawne was always there at just the right time. Professor Zoom has long been one of the very toughest foes for the Flash…and you'll certainly come away from this issue with that impression of the DCYou Eobard Thawne.
CHARACTER NOTES: I've been e-mailing back and forth with some of the other folks on the Speed Force staff about this issue, particularly about the connection that every character here seems to have to the Speed Force. This has been happening more and more post FLASHPOINT, and for some characters it is an update that works very well. For Roscoe, his history of spinning very fast fits well with being struck by the Speed Force. For others, it's forcing things just a bit to tie everyone (and I mean EVERYONE) to the Speed Force, but I do still like the characters and we'll see how they are developed moving forward.
Just another note about Roscoe (it's hard to not say "The Top", but maybe that will happen later). He is brought into the DCYou at a much younger age than we've seen him before, with a heart-wrenching backstory that makes him a very sympathetic character. There is a lot that can be done with Roscoe moving forward, especially if/when he leaves the influence of Eobard Thawne. That leads me to my second set of notes:
PLOT NOTES: It is interesting to have an issue of THE FLASH where you don't really see much of The Flash…he only appears in a vid feed on one page…but in many respects this story is still all about him (or at least the search for a team that can destroy him).  The biggest question for a story arc like this is, "WHY does Zoom need a team? Isn't he powerful enough on his own?" We don't get the answer as to why he hasn't been successful on his own, but it is clear in this tale that he in fact has NOT been able to beat Barry Allen alone…and we do get a least a little sense of why he needs each of the people he recruits to his team. This story is sweeping in scope, covering everything from the 16th century and the Aztec Empire to 19th century Africa, 1957 Australia, 1982 Oklahoma, and present-day Central City. When you attempt to put together a tale with such scope, there can be questions left unanswered and potential plot holes as well. How many years had Zoom been searching when he found Magali? How did Thawne learn to travel so easily through time? Did they really train for that many years? (It seems to be inferred that the team trained through the centuries, kept young by Magali). And, most important, how could Zoom stay that mum about himself for THAT many years without creating much more doubt and concern among his team? If you can put that aside, it provides a good backstory and gives a solid guide to the present incarnations of Zoom and his crew (Zoom Crew? Nahhhh, sounds too much like…). The only thing that I can see (or think I see) in the future is the time that this crew finally figures out what a creep Thawne is…and I do look forward to what happens if that occurs.
SUMMARY NOTES: Some Annuals wrap things up from prior arcs, some are one-shots that put a lot of characters together for the fun of it, and some are given a task like this issue of THE FLASH – to set the table for the next several months of storyline. It can be a challenge, especially when introducing new characters and revised versions of characters we've seen in past continuities.  Overall, this issue was solid – I may quibble a bit with EVERYONE being connected to the Speed Force, but I'm okay with how at least some of the characters are tied in, and I especially was glad to see what Jansen and company did with the re-introduction of Roscoe. There are some potential plot holes in this story…but future issues will tell us if the team avoids those. The artwork by Bong Dazo (pencils), Norm Rapmund (inks) and Andrew Dalhouse (colors) was good throughout, with great action and excellent expression.
BOTTOM LINE: This was a solid issue – not spectacular, but still a good backstory for a group of characters who should provide Barry Allen with a major challenge moving forward. I may have some minor quibbles with so many characters with such diverse powers being tied to the Speed Force, and there are some unanswered questions that I'm hoping will be filled in as the storyline progresses. Still, it's a solid effort and worth checking out. I'm looking forward to what comes next as Zoom and his team go after Barry Allen.
Share