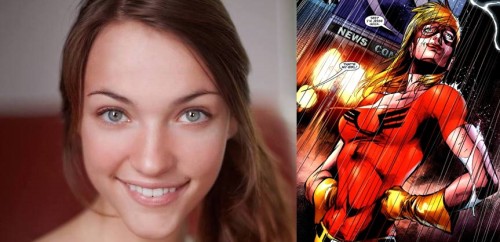 CW has cast another speedster: Violett Beane will play Jesse Quick. According to TV Line:
Jesse — who will appear in multiple episodes of the CW smash — is characterized as a brilliant but quirky college student who gets caught up in the battle between The Flash and Season 2 Big Bad (the not-yet-cast) Zoom.
Jesse Quick was introduced in the early 1990s Justice Society of America series as the daughter of golden-age heroes Liberty Belle and Johnny Quick (not to be confused with the Crime Syndicate villain of the same name). When her parents split up, she followed her father's legacy, using his super-speed formula as a hero and taking over his business when he died. She became a recurring guest in the Flash comics. She eventually reconciled with her mother, and when she temporarily lost her speed, she took on the Liberty Belle persona for a while. She has yet to be seen in the New 52/DC You, though a version of her did appear in the Ame-Comi Girls digital-first series a few years back.
Jay Garrick, Wally West, AND Jesse Quick! They're going to need a team name by the end of the season!
Image via The Flash Podcast.
Share