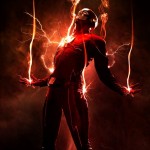 There's one week to go before The Flash's season premiere, and naturally there are a lot of new details coming out. And a new poster, of course, which is shown at the left. Possible spoilers behind the jump.
A new teaser was posted by the CW and then set to private while I was offline, so the only version currently available was uploaded by someone else and is of poorer quality than the usual CW videos. But it gives us our first glimpse at Zoom and the new Firestorm.
TV Guide has some hints about what we'll see with Cisco in Season Two.
And if you've ever wanted to see how some of the CGI effects are done on the series, this brief featurette from the DVD/Blu-Ray set introduces them a bit.
Just one week left until the premiere! Who's looking forward to it?
Share