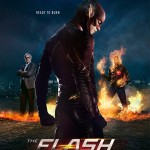 Today we've got quite a few details about upcoming episodes, so let's get right to it. To the left, here's a new promotional poster for next week's episode of The Flash, featuring guest-star Franz Drameh.
You can see the one-page promo comic for next week's episode ("The Fury Of Firestorm") at the CW's official blog.
Spoilers for upcoming episodes behind the jump.
Here's the official synopsis for November 10th's episode, titled "Enter Zoom".
"Enter Zoom"

BARRY COMES UP WITH A PLAN TO DEFEAT ZOOM — After recent events, Barry (Grant Gustin) decides it's time to confront Zoom and comes up with a dangerous plan. Caitlin (Danielle Panabaker) sides with Jay (guest star Teddy Sears) and deems it too dangerous for Barry to engage with the speed demon. However, Iris (Candice Patton) shows her support and brings forth a surprising ally. We see what Earth-2 Harrison Wells' (Tom Cavanagh) life was like before coming through the breach. JJ Makaro directed the episode written by Gabrielle Stanton & Brooke Eikmeier (#206). Original airdate 11/10/2015.
And here's a look at the effects which create Zoom and other characters in the series. Some of the show's creative team discuss the process leading to the designs and special effects for some of the metahuman characters we've recently seen, such as Zoom and Sand Demon — although be warned, there's actually a bit of footage from the fourth episode, which we haven't seen yet.
https://youtu.be/WEFDQpkiBHg
Speaking of designs, we've gotten another good look at Caitlin Snow as Killer Frost. Comicbook.com has the still image and the television clip the image came from, which was Danielle Panabaker's appearance on a talk show.
ETOnline has some details about the debut of Earth-2's Harrison Wells, and what we'll be seeing with him this season. Tom Cavanagh talks about how he'll be playing the character, and the rest of the show's cast discuss how their characters will respond to him. What's particularly interesting is that Cavanagh basically re-wrote the character's personality himself.
And finally, there are spoilery details on the mid-season finale, which will be another Christmas episode. Comicbook.com has the news, which I won't spoil here — but it involves the return of some Rogues. There are a few set photos here.
That's a lot of news! What are you most looking forward to seeing?
Share