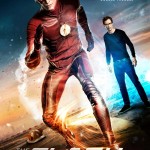 The CW has released a new poster to reflect The Flash's new status quo. It'll be interesting to see what kind of dynamic Earth-2's Harrison "Harry" Wells brings to Team Flash.
Flashfans.org has some official still images from next week's episode, titled "Enter Zoom", and it gives us our first really good look at Zoom. Some people are already speculating about his identity based on these images, and there may be something to that, but I think it's probably a bit early yet to say anything about it.
And Vanity Fair has a short piece about the talents veteran actors Jesse L. Martin and Victor Garber bring to The Flash series. It's interesting, so check it out.
What do you think of Zoom's costume and overall look? Feel free to share your thoughts!
Share