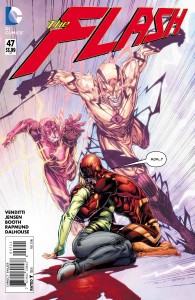 Newsarama has a preview of Flash #47, out in stores this week. Newsarama indicates there's a "shocking change to the Flash's origin" in the preview, but I didn't notice anything major that hasn't been around since Flash: Rebirth back in 2009. It does look like we'll finally see what's going on with this version of Professor Zoom, though, which is good, because this concludes the current storyline.
THE FLASH #47
Written by ROBERT VENDITTI and VAN JENSEN
Art and cover by BRETT BOOTH and NORM RAPMUND
Variant covers by TERRY DODSON
On sale DECEMBER 30 • 32 pg, FC, $3.99 US • RATED T

Professor Zoom's endgame goes into effect as we learn the dark truth behind Nora Allen's murder!
Share