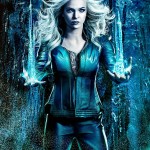 This week we'll be getting our first really good look at Earth-2 in The Flash series, and the CW's going all out to tease it. First, here's an official promotional poster of Earth-2's Caitlin Snow, who happens to be the villainous Killer Frost.
Flashfans.org has a gallery of official stills from the episode, giving us a glimpse at Earth-2's Barry, Joe, Iris, Caitlin, and Ronnie.
And the CW's Tumblr blog has the one-page preview comic from the episode, showing the meeting with Earth-2's Barry. Looks like he's pretty similar in both universes, and they should get along well.
Looking forward to the episode? Fortunately it's on tonight, so you don't have to wait long!
Share