DC is re-releasing a bunch of its early Barry Allen stories from the 1950s and 1960 in the first volume of a new series of softcovers, Flash: The Silver Age.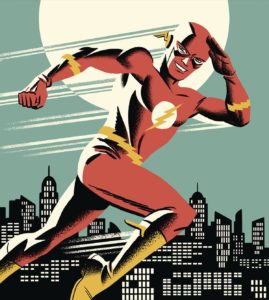 Collecting the earliest adventures of The Flash from SHOWCASE #4, 8 and 14, and THE FLASH #105-113! Witness the origin of The Flash, the debuts of his Rogues Gallery, including Captain Cold, Gorilla Grodd and Weather Wizard, and the introductions of fellow heroes Kid Flash and the Elongated Man.
Stories by John Broome and Robert Kanigher with art by Carmine Infantino, and a cover by Michael Cho.
Presumably this series replaces the "Flash Chronicles" series that previously reprinted the early Barry Allen Flash stories in softcover trade paperbacks and got up to 1961. I like to think that someday DC will actually keep going with one of these reprint series and we'll get past the mid-1960s.
Share