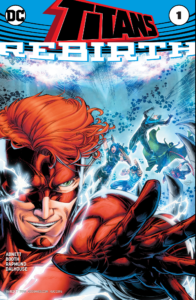 The welcome home tour for the original Wally West continues straight out of the pages of FLASH REBIRTH, as Wally returns to his first super-team, the Titans! Will his friends remember him? And, if they don't, what happens next? One thing is for certain…fans of the original Wally are (so far) ecstatic with his depiction since his return to the DCU. Whether that trend continues…is something we'll talk about more after the jump as we look at TITANS REBIRTH #1!
SPOILERS AHEAD!
As Wally heads to meet his friends for the first time (again), we see flashbacks to their time together as the original Titans. Those flashbacks continue throughout the issue, serving both as "new" history for the team in the REBIRTH era DCU and as a means of demonstrating the return of each teammate's memory of him. Wally's first meeting is with Dick Grayson, and of course a fight ensues since Dick does not recognize his old friend. Eventually the entire team is pitted against Wally, and if it weren't for some timely intervention by the Speed Force itself we might have found Wally in pretty bad shape. But, as Wally comes into physical contact with each teammate during the fight, the Speed Force creates a sort of shock, returning each person's memory of their long-lost friend.
This sounds like a simple plot…and it is both simple and effective. This is a terrific jumping on issue, one that honors both Wally's character and the history of the Titans. This version of Wally still carries memories of what once was (with yet another mention of Linda), but his personality is what shines through so well.  I loved writer Dan Abnett's echoing of Mark Waid's classic intro, "My name is Wally West. I'm the Fastest Man Alive". Everything in this book shouted the return of the version of Wally that fans have been clamoring for since the beginning of the New 52. In other words, if you wanted to reset the Titans' story in a way that could be interesting to both long-time and new fans, THIS would be the book.
As for the new duds? I actually like them. The colors remind me a bit of the Walter West uniform from back in the day, and it does a good job of honoring both Wally's time as Kid Flash and later on as THE Flash. This brings me to artwork…and a thanks to the team that handled THE FLASH during the Venditti and Jensen era, Brett Booth, Norm Rapmund, and Andrew Dalhouse.  This was illustrated exceptionally well from start to finish – I've been a fan of this team's work all along, and I really enjoyed how they handled all the Titans in this book.
Just a note –  Brett Booth published a design for a Wally West return uniform back in the early days of the New 52. It may not have been picked up by DC at the time, but I'm glad to see him getting to draw Wally again now.
Just another note: I'm wondering about the nature of the Speed Force itself in this new era of the DCU. The Speed Force has now supposedly hidden Wally for years, and now it appears to have the power to restore memories in Barry, in the Titans, and we must assume others yet to come. The Speed Force is manifesting as a silver-white color with Wally (as opposed to the yellow surrounding Barry), but it's more the effects of the Speed Force that are intriguing here. Whether we go back to a pre-FLASHPOINT vision of the Speed Force, some hybrid of pre/post-FLASHPOINT versions of the Speed Force, or something else entirely has yet to be seen. That will be interesting to watch…
One last note: My fandom for the Titans goes back to when I bought the Teen Titan's first official appearance back in the 60's (keep in mind I've been reading comics for 52 years…). I'll admit to getting a little misty-eyed while reading this issue. It's a great start, and I'm looking forward to the ongoing TITANS series.
I'll give this one a 10/10. What is YOUR opinion? Leave your comments below!
Share