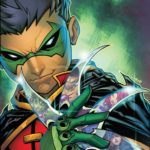 The preview for the first issue of the relaunched Teen Titans book is up at Comicosity, and it's all about Wally West. Check it out at the link!
TEEN TITANS: REBIRTH #1
The Teen Titans are farther apart than ever before…until Damian Wayne recruits Starfire, Raven, Beast Boy and the new Kid Flash to join him in a fight against his own grandfather, Ra's al Ghul! But true leadership is more than just calling the shots—is Robin really up to the task? Or will the Teen Titans dismiss this diminutive dictator?
Written by Benjamin Percy (GREEN ARROW, DETECTIVE COMICS) with cover, interior art and new character designs by Jonboy Meyers (GEN 13, SUPERGIRL), colors by Jim Charalampidis and letters by Corey Breen, TEEN TITANS: REBIRTH #1 arrives September 28th.
Share