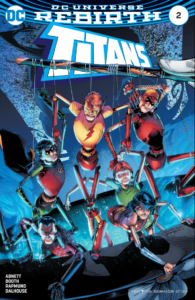 The title may say TITANS, but make no mistake – this first arc is definitely a Wally West title. Who's complaining? Not this fan – and this arc is the perfect way to continue the re-introduction of the Titans into mainstream DC continuity. Abra Kadabra is back, and he had nothing more than vengeance on his mind…so what's next? Follow us after the jump to learn more!
SPOILERS AHEAD
The Titans are standing in the middle of the street, frozen in place.  Linda Park, Super News (read the book and you'll understand why I'm referring to her that way) recognizes everyone…just not as Titans. She even…finally…recognizes the guy in the Kid Flash uniform as Wally West! Wait…Kid Flash uniform? Didn't Wally ditch that outfit? And…why is Dick Grayson in a Robin uniform? Why are the rest in their old outfits?
Okay, you can guess by now that these are the real Titans…they are exact magical duplicates created by none other than Abra Kadabra! Kadabra believes that Wally took everything from him, and he is determined to do the same in return. The Titans fight their doppelgangers, and the battle is intense in more ways than one. During the battle, Roy confesses his love for Donna…and both versions of Donna (real and duplicate) are stopped in their tracks for a moment.  "Kid Flash" tries to trick Wally into going full speed into the Speed Force, but Wally is too smart to take the bait.  Omen's duplicate picks up on Wally's feelings for Linda Park, Super News, which is a BIG surprise to Kadabra (for reasons we'll discuss below)…
…but before much more can happen the team finds out about Kadabra, and Garth goes to a rooftop after him. That leads to a shocker panel at the end…and we'll have to get the next issue to see how that plays out.
NOTES: We learn some things in this issue that play into the overall REBIRTH story. For example, Kadabra says that Wally and Linda aren't supposed to meet for several more years ("I've read the chronicles. They're not supposed to know each other yet").  Could this be connected to the 10 years that were taken out of continuity when the New52 came to be? Were Wally and Linda meant to meet somewhere during that missing 10 years instead of "now"? And, what happens now that they have meant years "early"? One other interesting note is that Linda Park, Super News remembers Robin, Speedy, Wonder Girl and Aqualad…but not that they were ever a group.  What happens as the Titans come back into the consciousness of the people of DC's main Earth? I have a feeling we'll explore both of those issues as TITANS moves through this arc.
We also learn how this Kadabra's "magic" works in the REBIRTH universe. He didn't steal a time machine to come back to our century, and he isn't using true sorcery (as after the Neron storyline). But, he has a "priceless M-Metal" wand, with "properties of trans-temporal warping". It's how he got here, and it isn't fully charged anymore…but obviously it has enough power to create the duplicate Titans…and possibly to do something much worse at issue's end. No matter what, this Abra Kadabra is no pushover.
ONE LAST NOTE: The main cover is a nod to a classic FLASH story from years ago, when Barry Allen was turned into a puppet by Abra Kadabra in the Silver Age. Nice tribute, updated for the Titans. The alt cover is simply outstanding, with Wally prominently featured over zoomed-in portraits of the other Titans.
SUMMARY: TITANS is one of the best series DC has put together in several years. The combination of THE FLASH and TITANS may well be the best one-two punch DC publishes right now.  If you were an old fan of the original Titans, this is your book. If you were a fan of Wally West's iconic run as The Flash, this is your book. Even if you are new to DC, you won't feel lost…and this could very well be your book. Dan Abnett is giving us an outstanding re-introduction to the Titans. The artwork is amazing…outstanding…can we throw in a couple of more words here?…thanks to the fantastic team of Brett Booth (pencils), Norm Rapmund (inks) and Andrew Dalhouse & Carrie Strachan (colors). This is a 10/10 for me.
Of course, that's my opinion – what's yours? Leave your comments below!
Share