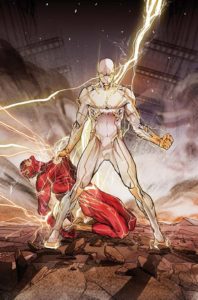 After a fantastic build-up, we finally get the big reveal…the identity of Josh Williamson's new villain, Godspeed! Just who is the bad guy who has been stealing the speed from…and killing…so many of the new speedsters in the Gem Cities? What is his agenda? You'll learn a LOT in this issue, so you'll have to follow us after the jump to learn more!
SPOILERS AHEAD
.
.
.
.
This issue starts with a murder…but this time Godspeed isn't killing a speedster. He's out for revenge, though we don't know the name of this victim or what the vengeance is about…at least not yet. Barry is losing a LOT of sleep, trying to figure out what's happening. He still holds out hope that Meena somehow is lost in the Speed Force rather than actually dead. (NOTE: This is important as it re-establishes Barry's role in the original Crisis on Infinite Earths…just check out the scene and you'll see what we mean). August doesn't share that hope, for reasons we will soon learn.
Barry meets with Iris to find out what she has learned. Wally arrives and mistakes Iris' attempts to comfort Barry in his loss for Barry "hitting on my Aunt". Wally is distraught at the loss of his mentor
Meena and runs away. Barry realizes that he now knows TWO Wallys who are connected to the Speed Force…but he learns something more. Barry learns the name of the latest victim of Godspeed and realizes just who Godspeed actually is…
SPOILER AHEAD
SPOILER AHEAD
SPOILER AHEAD
SPOILER AHEAD
It's August Heart! The latest victim was the man who "escaped justice" for the death of August's brother, and that was the clue Barry needed. He confronts August, who confesses everything. He killed Billy Parks in the belief that Parks killed August's brother. He killed the other speedsters because they were "wasting their powers" instead of becoming heroes. And, he's now ready to take Barry down in order to keep operating. The thing is, Godspeed has now learned something that even Barry hasn't been able to do…Godspeed can literally be in TWO places at once! The battle is on…but we'll have to wait for next issue to see what happens next!
NOTES: You can tell me that you guessed this one a long time ago…but whether you knew it or not, this was a high point for the series so far. This reveal was developed exceptionally well over the first issues of this volume of THE FLASH, and the way Barry came to realize the identity of the big bad was handled perfectly. Credit Josh Williamson for bringing us to this point with a great story line and with excellent development of all the characters. Think about where we are now…a Barry with a clear voice and with some interesting relationship possibilities. Young Wally finally embracing his speed powers and soon to be the Kid Flash we've been anticipating for a very long time. A compelling new villain who is a formidable opponent even for the Fastest Man Alive. It's adding up to a great time to be fan of The Flash!
I'll give this one a 9/10…but that's just my opinion. What do YOU think? Leave your comments below!
Share