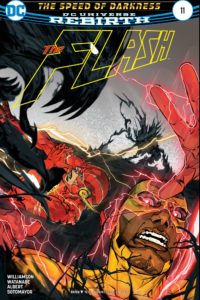 Last week we saw the return of the Shade…but the story behind that is more complicated that it may have seemed to be. We learn a lot more about the Shade (and the shadows) this issue. We get more Kid Flash, and…someone turning from friend into enemy! Who might you ask is that, and why? Follow us after the jump!
SPOILERS AHEAD!
Kid Flash is trapped in the shadows, fighting the darkness and the multitude of shadow creatures as best he can. He's all alone, in part because he ran off last issue to prove himself to the Flash, and as we start no one knows where he is. Barry visits Iris to talk to Wally – and that's when the two of them realize he's gone.
Enter the Shade!
Yes, he has changed and still prefers his heroic persona. He had even found true love, Hope O'Dare. But, he no longer controls the shadows, and they have turned on him, capturing his love and threatening to flood over into all of reality. Hearing that Wally is in danger, Iris rushes headlong in the shadows, followed by the Flash. Barry finds a Kid Flash who believes he has been fighting for days, and in this weird reality that may be the case, but it's been only hours in the real DC world. The Shade gives them the lowdown on how all this came to be, and points them to the biggest danger, the Tower of Darkness. If that tower lives up to its purpose, a rift will allow these shadow creatures to infect the whole world, the same way they have infected the two humans who now lead them…Hope O'Dare and Iris West!
SUMMARY: THE FLASH #11 is a solid issue, not the best of the REBIRTH run but still a good story and one that gives a proper backstory to a long-time Flash foe.  This issue is long on exposition, much of it necessary for any new readers. But, it would be understandable for long-time fans if that seemed a bit on the extra long side. I'm not sure how I feel about the "good girls are corrupted by evil twist", but I want to give it a fair shot to see what happens next issue. Joshua Williamson has been spot-on with this volume of THE FLASH so far, and I'm still very pleased overall with this arc. Davide Gianfelice (pencils/inks) and Ivan Plascencia (colors) give us another great issue for the artwork.  This issue rates an 8/10 – but that's just my opinion. What do YOU think? Leave your comments below!
Share