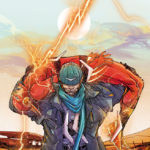 The full list of DC's March solicitations hasn't been posted yet (they'll probably be out on Monday), but the Teen Titans and one of The Flash solicits/covers are out already.
THE FLASH #19
Written by JOSHUA WILLIAMSON—Art by NEIL GOOGE—Cover by CARMINE DI GIANDOMENICO—Variant cover by DAVE JOHNSON
"SINS OF THE FATHER" finale! Wally's quest for knowledge about his villainous father takes him and Barry Allen to the Australian outback and into the debt of Captain Boomerang, one of The Flash's oldest enemies and the last person to see Wally's father, Reverse-Flash, alive.
TEEN TITANS #6
Written by BENJAMIN PERCY
Art by KHOI PHAM and WADE VON GRAWBADGER
Cover by KHOI PHAM
Variant cover by CHRIS BURNHAM
"THE RISE OF Aqualad" part one! New story! New city! New member? As the team adjusts to their new lives at Titans Tower, Damian investigates a series of strange disappearances in San Francisco. Meanwhile, Jackson Hyde heads west to fulfill his destiny…and finds himself in the crosshairs of the Teen Titans!
On sale MARCH 22 • 32 pg, FC, $2.99 US • RATED T
It's good to see Captain Boomerang back in the Flashverse, because in the New 52 there was absolutely no sign that he was connected to it at all. We'd already seen a hint that Boomerang has faced the Flash in the Rebirth Suicide Squad book, but this is the first time in The Flash book itself.
You can see the rest of the solicitation snippets at Bleeding Cool at the site. Be back here for the full list of solicitations next week!
Share