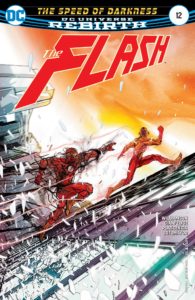 Wow, are we already 12 issues into the REBIRTH era? Actually, it's 13 if you count the REBIRTH one-shot…and Kid Flash finally has his chance to be in the spotlight! It's an issue that wraps up the "Speed of Darkness" story arc in fine fashion, with a nod to the REBIRTH mystery dropped into the plot for good measure. Want to know more? Follow us after the jump!
SPOILERS AHEAD!
Flash and Kid Flash are trapped in the Shadowlands, along with the Shade himself, Hope and Iris…and things are not looking good for our heroes. The shadows no longer listen to the Shade, and a possessed Hope and Iris are opening a door to the waking world to take it over. In that fight, Kid Flash discovers a new aspect to his powers, one that not even Barry can match. And we see the partnership…and the trust between them growing. The wrap up to the battle involves that partnership, and the stubborn nature of one of Central City's best reporters. As the battle wraps up, the Shade mentions something about Barry's "wife"…could the Shade have a memory of the Pre-FLASHPOINT/New 52 world? The mention only confuses Barry, who doesn't recall that earlier life…but he does decide to start living his life in a more balanced way and asks Iris out for a date!
NOTES: There is only one beef I have with this issue, and it's a relatively small one. I'm not sure how Iris could have been so easily taken over by the shadows and then relatively easily shake them off…but in the end it's only a minor concern in an otherwise excellent plot. It was wonderful to see young Wally getting the chance to be a true hero, earning his spot back in Barry's training program. It's also good to see how the Speed Force impacts Wally in a slightly different way, continuing the ideas we saw in the earlier Speed Storm arc.  And, for this long time Flash fan, IT IS ABOUT TIME that Barry asks Iris out…yay for that FINALLY happening!
This was a fitting finale to the "Speed of Darkness" arc, with a nice return for a long time Flash foe/friend and some great developments for Wally and for Barry/Iris. Joshua Williamson continues to give us amazing scripts, and the art continues to impress thanks to Davide Gianfelice with colors by Ivan Plascencia & Christopher Sotomayor.
I'll give this one a 9/10 – but that's just my rating. What do YOU think? Leave your comments below!
Share