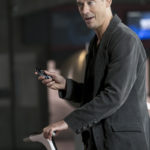 The next episode of The Flash will air on January 24th, and the CW has already released the official synopsis and stills for it. It's titled "Borrowing Problems From The Future", and will pick up where the mid-season finale left off. The picture at the left is an official still image from the episode, and you can see more of them at Arrowverse.TV. Keep in mind that there are spoilers behind the jump!
BARRY FIGHTS FOR IRIS — Barry (Grant Gustin) is tormented by his vision of the future where Iris (Candice Patton) is murdered by Savitar. When a criminal named Plunder (guest star Stephen Huszar) shows up in Central City, Barry recalls the villain's presence in his vision of the future and fears that if he catches Plunder, it will cement Iris' fate. Confused about Barry's hesitation to stop Plunder, Wally (Keiynan Lonsdale) decides to step in as Kid Flash. Caitlin (Danielle Panabaker) offers Julian (Tom Felton) a job. Millicent Shelton directed the episode written by Grainne Godfree & David Kob.
TVLine gives us a few tidbits about the next few episodes:
"Now that Barry has gotten a glimpse of the future" — one in which Savitar slays Iris — "he will be trying to do whatever it takes to save her," says co-showrunner Aaron Helbing. "Everybody will play a huge part in that, because Iris is part of the team." Maybe even former frenemy Julian will lend a hand? Having unwittingly served the sinister speed god, "He feels culpable, and wants to make amends." But wait, wasn't Savitar dispatched with in the fall finale, imprisoned in the Speed Force? "That will be an itch that Barry can't scratch," says the EP. "Like, 'How is this possible?'" Team Flash members also have individual odysseys ahead of them. Helbing says there are "big, exciting plans" for Caitlin, stemming from her wrestling with her powers for the rest of the season; Cisco will find in the badass Gypsy "a very strong adversary" as well as "someone he can't stop thinking about"; and Wally will continue to "go a little half-cocked" as Kid Flash.
I never had a chance to post about Gypsy in December; she's a new character who'll debut in the second half of the season. Named Cindy Reynolds, she's described as "a meta-human with the power to project illusions and a refugee from a parallel universe who crosses paths with the Flash and his team and develops a singular relationship with Cisco". It seems from descriptions that she may have an antagonistic relationship with Team Flash at times, but we'll see what her role is like. And she'll be played by Jessica Camacho from Sleepy Hollow.
Looking forward to Gypsy and more action from Kid Flash? Share your thoughts!
Share