A few days ago I posted the nearly-full complement of Flash-related April DC solicits, and here's the complete one courtesy of Newsarama. It includes TPBs and a plush Whatzit, and clears up the mystery of the Flash-Batman crossover solicits, so it's behind the jump for length.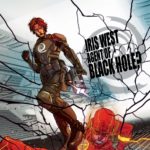 THE FLASH #20
Written by JOSHUA WILLIAMSON
Art by NEIL GOOGE
Cover by CARMINE DI GIANDOMENICO
Variant cover by DAVE JOHNSON
The dangerous scientists of Black Hole have been stealing the bodies of dead speedsters, prompting Iris West and The Flash to go deep undercover among them! And in doing so, they discover a shocking secret: a traitor within The Flash's inner circle!
On sale APRIL 12 • 32 pg, FC, $2.99 US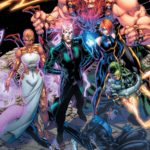 TITANS #10
Written by DAN ABNETT
Art and cover by BRETT BOOTH and NORM RAPMUND
Variant cover by NICK BRADSHAW
"Made in Manhattan" finale! While Wally and Dick are trapped inside Meta Solutions with the raging Mammoth, Psimon reveals that his employers have big plans for Bumblebee! Can the rest of the Titans rally before the Fearsome Five unleash hell on New York City?
On sale APRIL 12 • 32 pg, FC, $3.99 US • RATED T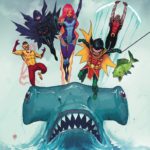 TEEN TITANS #7
Written by BENJAMIN PERCY
Art by KHOI PHAM and WADE VON GRAWBADGER
Cover by KHOI PHAM
Variant cover by CHRIS BURNHAM
"The Rise of Aqualad" finale! Out of the depths of the San Francisco bay rises King Shark, backed by an army of mutant shark-people! Outnumbered and out…teethed, can Damian, the Teen Titans and their new ally Jackson Hyde defend their city from the jaws of disaster?
On sale APRIL 26 • 32 pg, FC, $3.99 US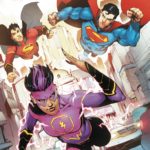 NEW SUPER-MAN #10
Written by GENE LUEN YANG • Art and cover by VIKTOR BOGDANOVIC • Variant cover by BERNARD CHANG
"COMING TO AMERICA" part two! Superman meets Super-Man! As the battle with China White and Lex Luthor intensifies, the Man of Steel steps in to settle things once and for all. Can the combined might of three supermen turn the tide? Don't miss the fate of Central City's own Avery Ho, repercussions from the "Superman Reborn Aftermath" story in ACTION COMICS, and a new member of the Justice League of China!
It turns out that there's indeed only one identical solicitation for all four parts of the Flash-Batman crossover. Rather than posting it with each issue as Newsarama has done, I'll just print it once.
BATMAN #21
Written by TOM KING
Art and cover by JASON FABOK
On sale APRIL 19
THE FLASH #21
Written by JOSHUA WILLIAMSON
Art by HOWARD PORTER
Cover by JASON FABOK
On sale APRIL 26
BATMAN #22
Written by TOM KING
Art and cover by JASON FABOK
On sale MAY 3
THE FLASH #22
Written by JOSHUA WILLIAMSON
Art by HOWARD PORTER
Cover by JASON FABOK
On sale MAY 10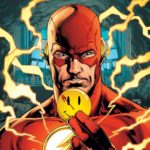 "The Button": Two greatest detectives in the DC Universe unite to unravel the mystery behind a certain blood stained smiley face button stuck in the Batcave wall. However, what begins as a simple investigation soon turns deadly when the secrets of the button prove irresistible to an unwelcome third party — and it's not who anyone suspects! This is a mystery woven throughout time, and the countdown starts here!
Each issue of "The Button" will feature both a lenticular cover along with a regular cover, each drawn by Fabok. The lenticular cover editions will retail for $3.99, with the regular covers at the standard Rebirth price of $2.99.
THE FLASH VOL. 2: SPEED OF DARKNESS TP
Written by JOSHUA WILLIAMSON
Art by JORGE CORONA, FELIPE WATANABE, OCLAIR ALBERT, DAVIDE GIANFELICE and NEIL GOOGE
Cover by CARMINE DI GIANDOMENICO
A storm is brewing over Central City. Just as Barry begins to feel overwhelmed fighting crime, a new speedster appears—but just where did this amazing new friend come from? Spinning out of the events of DC UNIVERSE: REBIRTH #1, the Fastest Man Alive finds himself at a crossroads. Collects issues #9-13.
On sale MAY 17 • 128 pg, FC, $14.99 US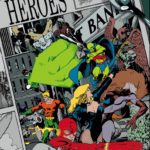 JLA YEAR ONE DELUXE EDITION HC
Written by MARK WAID and BRIAN AUGUSTYN
Art by BARRY KITSON, MICHAEL BAIR, JOHN STOKES and MARK PROPST
Cover by BARRY KITSON
The definitive tale of the JLA's formation is back in a new deluxe hardcover of the epic tale starring The Flash, Green Lantern, Black Canary, Martian Manhunter and Aquaman! Learn how the five founding members of the JLA pulled together as a team, earning the respect of the public and defeating foes like Vandal Savage, scientist T.O. Morrow and the Brotherhood of Evil! Collects JLA: YEAR ONE #1-12, with sketches and other bonus material!
On sale MAY 3 • 336 pg, FC, 7.0625" x 10.875" • $49.99 US
THE LAST DAYS OF THE JUSTICE SOCIETY OF AMERICA TP
Written by ROY THOMAS and DANN THOMAS
Art by DAVID ROSS, MIKE GUSTOVICH, MICHAEL BAIR, TOM GRINDBERG, GEORGE TUSKA, LUKE MCDONNELL and others • Cover by MICHAEL BAIR
After the devastation to their home dimension following the cataclysmic events of CRISIS ON INFINITE EARTHS, the world's first super team faces their gravest challenge to date. As Ragnorak reigns down from the sky, the surviving members of the JSA must make the greatest sacrifice—one that would affect the DC Universe for decades to come. Collects THE LAST DAYS OF THE JUSTICE SOCIETY SPECIAL #1, plus stories from SECRET ORIGINS #7, 9, 11, 13, 15, 16, 18, 20, 24, 25 and 31.
On sale MAY 10 • 336 pg, FC, $29.99 US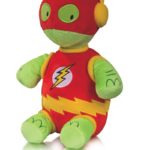 DC SUPER-PETS!: SILKY AND WHATZIT PLUSH FIGURES
Designed by ART BALTAZAR
Two unlikely super-powered beings are the latest DC Super Pet Plush Figures: The super-speedster turtle known as Whatzit, and Starfire's pet, Silky, from the pages of TEEN TITANS GO!
Silky comes with two plush hearts.
Each Measures Approximately 10" Tall
Each $15.00 US • On Sale AUGUST 2017
Allocations May Occur
There's some cool stuff in April (and early May, as that's when the last two parts of the Flash-Batman crossover are due out). What are people eagerly anticipating that month?
Share