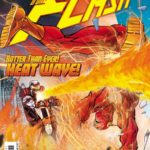 CBR has a five-page preview for this week's Flash #15 issue. It'll be our first really good look at the Rebirth-era Rogues, some of whom have changed significantly since their debut in the New 52. Check out the pages at the link!
Flash #15
STORY BY Joshua Williamson
ART BY Carmine Di Giandomenico
COLORS BY Ivan Plascencia
LETTERS BY Steve Wands
COVER BY Carmine Di Giandomenico and Dave Johnson

"ROGUES RELOADED" part two! Captain Cold, Mirror Master, Golden Glider, Weather Wizard and Heat Wave are back! In part two of this epic heist story, The Flash travels overseas to stop the Rogues from committing the greatest caper of all time! But not everything is as it seems in this international game of cat-and-mouse as the Rogues spring a trap on the unsuspecting hero.
Share