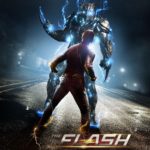 Here's the extended trailer for next week's episode of The Flash, titled "I Know Who You Are". The episode will air May 2nd, 2017.
Plus, as you can see above, the CW has released a new poster for the last few episodes of the season. There are only four episodes left now, so the final showdown with Savitar is obviously imminent.
Looking forward to next week's episode? Interested to see the debut of Tracy Brand and learn what she'll bring to Team Flash, or watch the clash with Killer Frost? Share your thoughts!
Share