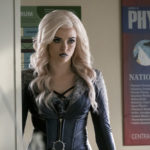 The CW has released the official still images for next week's episode of The Flash, titled "I Know Who You Are". You can see one of Killer Frost here, and the rest are available at Flash TV News.
Plus, they've now released the synopsis for the second-last episode of the season, which will air on May 16th. It's got the delightful title of "Infantino Street", which is a nice tribute to Barry Allen's co-creator Carmine Infantino.
"Infantino Street"

With only 24 hours left until Savitar murders Iris (Candice Patton), Barry (Grant Gustin) struggles to save the woman he loves and makes the choice to use any means necessary to do so. Realizing he has one option left to save her, The Flash turns to Captain Cold (Wentworth Miller) for help.

Grainne Godfree did teleplay for the story by Andrew Kreisberg. The episode is directed by Michael Allowitz. The Flash Season 3 Episode 22 airs on May 16 at 8|7c on The CW.
So Captain Cold returns to the Flashverse in some fashion, and it'll be interesting to see how. For those who never watched Legends of Tomorrow, Cold died with the team, but was plucked out of the timestream and later returned to the same point before even joining the Legends. It's not clear yet what his status will be in this episode.
Looking forward to the return of Captain Cold? Eager for the imminent season finale? Share your thoughts!
Share