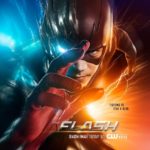 The season finale of The Flash airs this week, so the final fight with Savitar and Killer Frost is coming down to the wire. The CW has released a new poster for the episode "Finish Line" (which you can see at left), and some still images from the finale as well. The images are available at BeautifulBallad.org.
It was announced recently that the show will remain in its usual day and timeslot next season, while Arrow will be moved to Thursdays at 9 PM.
Looking forward to the finale? What do you hope to see happen in it, and then beyond into Season Four?
Share