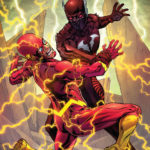 October's Flash #33 will apparently be a Dark Nights: Metal tie-in, in which Barry Allen meets his counterpart from the Dark Multiverse. It's part of an arc called "Justice Insurgence", and Newsarama has a few details about the storyline.
Dark Nights: Metal #1 begins next month, and you can see the solicitation and cover here.
THE FLASH #33
Written by JOSHUA WILLIAMSON
Art by HOWARD PORTER
Cover by NEIL GOOGE
Variant cover by HOWARD PORTER
"JUSTICE INSURGENCE" part one! After the harrowing events of DARK NIGHTS: METAL #3, the JUSTICE LEAGUE has scattered around the world to find the only artifacts that can fight back against the invasion of the Dark Multiverse. The League thinks they know how to take back their world, but they are not prepared for who is standing in their way. The Seven Dark Knights of the Dark Multiverse. All the brilliance of Batman, but none of the morals. Barry Allen, The Fastest Man Alive, is the first to get a taste of their plan, as BATMAN: THE RED DEATH takes him on at the Fortress of Solitude.
Share