DC has released the full list of solicitations for November 2017, and here is the Flash-related content. Of note, it seems that former Flash artist Pop Mhan is back on the book several decades later, at least for a couple of issues. Plus the younger Wally West may be returning to the Teen Titans, though not without acrimony. You can see the solicits in their entirety at CBR.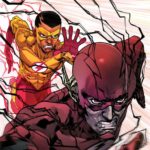 THE FLASH #34
Written by JOSHUA WILLIAMSON and MICHAEL MORECI
Art by POP MHAN
Cover by NEIL GOOGE
JUSTICE LEAGUE variant cover by MIKE McKONE
"Black Hole" part one! When a shocking reunion leads to an even more dire discovery about The Flash's new powers, Barry and Wally will have to confront their rocky past if they both hope to get out alive!
On sale NOVEMBER 8 • 32 pg, FC, $2.99 US • RATED T
THE FLASH #35
Written by JOSHUA WILLIAMSON and MICHAEL MORECI
Art by POP MHAN
Covers by NEIL GOOGE
Variant cover by HOWARD PORTER
"Black Hole" part two! Betrayed and broken, The Flash must come to terms with the damage he has caused his friends, family and city, and find a way to repair it…or risk losing those he loves most forever!
On sale NOVEMBER 22 • 32 pg, FC, $2.99 US • RATED T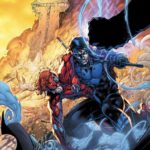 TITANS #17
Written by DAN ABNETT
Art by MINKYU JUNG and MICK GRAY
Cover by BRETT BOOTH and NORM RAPMUND
Variant cover by DAN MORA
"The Destroyer"! As the Titans face their darkest hour, the terrible truth about the team's traitor is finally revealed! But how did it come to this? What could possibly turn friend against friend? All the cards are on the table in this stunning issue destined to change the Titans forever!
On sale NOVEMBER 8 • 32 pg, FC, $3.99 US • RATED T
TEEN TITANS #14
Written by BENJAMIN PERCY
Art by KHOI PHAM and TREVOR SCOTT
Cover by DAN MORA
Variant cover by CHAD HARDIN
"The RETURN OF KID FLASH"! Kid Flash agrees to come back to the team on one condition: a face-to-face apology from Robin! Can Damian swallow his pride and admit that firing Wally was a mistake? Or will his bruised ego spell the end of the Teen Titans once and for all?
On sale NOVEMBER 22 • 32 pg, FC, $3.99 US • RATED T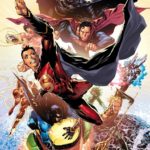 NEW SUPER-MAN #17
Written by GENE LUEN YANG
Art by JOE LALICH and RICHARD FRIEND
Cover by PHILIP TAN
Variant cover by BERNARD CHANG
"Equilibrium" part three! The Justice League versus the Justice League of China! Kenan and Baixi arrive in America only to be confronted as invading foreign nationals! Fortunately the Justice League arrives to break up the scuffle…but what side are the American heroes on? The JLC need to convince the JL to help track down the artifact that will bring an end to All-Yang's reign of terror on Shanghai before it's too late!
On sale NOVEMBER 8 • 32 pg, FC, $3.99 US • RATED T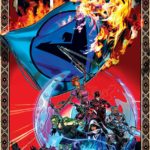 NIGHTWING: THE NEW ORDER #4
Written by KYLE HIGGINS
Art and cover by TREVOR McCARTHY
When the pursuit of his missing son brings Dick Grayson face to face with his ex, old wounds are reexamined and a tentative new alliance is formed between former enemies. But when a stunning discovery is made about his son's unique superpowers, the stakes become much higher and Grayson must take the fight straight to the Crusaders!
On sale NOVEMBER 22 • 32 pg, FC, 4 of 6, $3.99 US • RATED T+
BATMAN IN THE BRAVE AND THE BOLD: THE BRONZE AGE VOL. 1 TP
Written by BOB HANEY
Art by ROSS ANDRU, MIKE SEKOWSKY, BOB BROWN, NEAL ADAMS, NICK CARDY and others
Cover by KARL KERSCHL
The Dark Knight takes on crime with the help of DC's greatest heroes in this new collection of team-up tales from the late 1960s, including appearances by the Metal Men, the Spectre, Plastic Man, Green Arrow, Deadman, the Atom, Wonder Woman, the Creeper, the Flash, Aquaman, the Teen Titans and more!
Collects THE BRAVE AND THE BOLD #74-91.
On sale DECEMBER 27 • 456 pg, FC, $34.99 US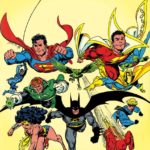 DC UNIVERSE BY JOHN BYRNE HC
Written by JOHN BYRNE, CARY BATES, LARRY NIVEN, MARV WOLFMAN, PAUL KUPPERBERG and others
Art by JOHN BYRNE, JOSE LUIS GARCIA-LOPEZ, KURT SCHAFFENBERGER and others
Cover by JOHN BYRNE
Legendary writer/artist John Byrne brought his unique vision to the DC Universe over his decades-long career. Rediscover his classic stories from BATMAN: GOTHAM KNIGHTS #2, CHRISTMAS WITH THE SUPER HEROES #2, DC COMICS PRESENTS: HAWKMAN #1, DCU INFINITE HOLIDAY SPECIAL #1, THE FLASH 80-PAGE GIANT #1, GREEN LANTERN ANNUAL #3, GREEN LANTERN: GANTHET'S TALE #1, NEW TEEN TITANS ANNUAL #2, OUTSIDERS #11, THE POWER OF THE ATOM #6, SECRET ORIGINS ANNUAL #1 and more!
On sale DECEMBER 13 • 352 pg, FC, $39.99 US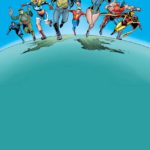 JSA BY GEOFF JOHNS BOOK ONE TP
Written by GEOFF JOHNS, DAVID GOYER and others
Art by STEPHEN SADOWSKI, MICHAEL BAIR and others
Cover by ALAN DAVIS
Mixing heroes such as Green Lantern, The Flash and Wildcat with a younger generation of crime-fighters like Starman, Black Canary, Hawkgirl, Atom Smasher and the Star-Spangled Kid, Geoff Johns reimagined the world's first super-team in these tales from JSA #1-15 and JSA: SECRET FILES #1! The adventure begins as the team battles Mordru to protect the magical heroes of the DC Universe!
On sale DECEMBER 13 • 392 pg, FC, $34.99 US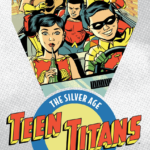 TEEN TITANS: THE SILVER AGE VOL. 1 TP
Written by BOB HANEY
Art by BRUNO PREMIANI, NICK CARDY, BILL MOLNO, IRV NOVICK and others
Cover by MICHAEL CHO
DC's premier teen team unites in these early stories from THE BRAVE AND THE BOLD #54 and 60, SHOWCASE #59 and TEEN TITANS #1-11, in which the team face the Demon Dragster, the Mad Mod, Captain Rumble and many other far-out foes.
On sale DECEMBER 20 • 360 pg, FC, $29.99 US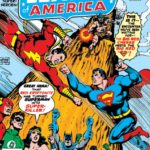 JUSTICE LEAGUE OF AMERICA: THE BRONZE AGE OMNIBUS VOL. 2 HC
Written by LEN WEIN, CARY BATES, ELLIOT S. MAGGIN, MARTIN PASKO, GERRY CONWAY, E. NELSON BRIDWELL, STEVE ENGLEHART and BOB ROZAKIS
Art by DICK DILLIN, DICK GIORDANO and FRANK McLAUGHLIN
Cover by ERNIE CHUA
In these 1970s tales, the JLA must stop a plague from devastating Hawkman's homeworld of Thanagar, aid their ally Adam Strange on the planet Rann, face the Justice Society of America from the parallel world of Earth-2, and battle their longtime foe Despero.
Collects JUSTICE LEAGUE OF AMERICA #114-146.
On sale MARCH 14 • 776 pg, FC, $125.00 US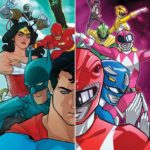 JUSTICE LEAGUE/POWER RANGERS HC
Written by TOM TAYLOR
Art by STEPHEN BYRNE
Cover by KARL KERSCHL
Something terrible has happened in Angel Grove! When the Command Center is breached and the teleporters are damaged, Zack is flung into another universe, where he's mistaken for a villain by a mysterious masked vigilante. Can the other Power Rangers get to their friend in time to save him from Batman?
Collects Justice League/Power Rangers #1-6. Co-published with BOOM! Studios.
On sale DECEMBER 6 • 160 pg, FC, $24.99 US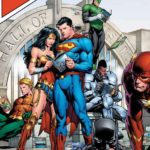 DC ESSENTIAL GRAPHIC NOVELS 2018
Cover by DAVID FINCH and DANNY MIKI
The DC GRAPHIC NOVELS catalogue is back, newly updated and in stores for the 2017 holiday gift-buying season! This year's edition features a spectacular new cover by artists David Finch and Danny Miki!
On sale NOVEMBER 1 • 128 pg, FC • FREE!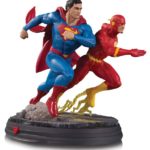 DC GALLERY: SUPERMAN VS. THE FLASH RACING STATUE
Sculpted by ALTERTON and ALEJANDRO PEREIRA
The Man of Steel and the Scarlet Speedster square off in this premium polyresin statue sculpted by Alterton and Alejandro Pereira, inspired by the classic SUPERMAN #199!
Limited Edition of 5,000
Measures Approximately 10.4" Tall
$295.00 US • On Sale MARCH 2018
Allocations May Occur
Looking forward to any of the November releases? Share your thoughts!
Share