First off, a note that much of what's in this post is very spoilery, particularly for The Flash and Arrow.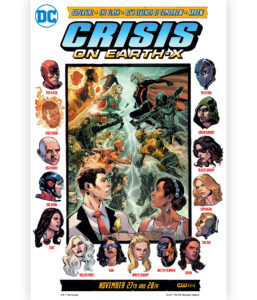 The CW has released an official teaser image for the upcoming season's mega crossover, and it's a doozy. It seemingly features a wedding between Barry and Iris, a conflict with another Earth we've never seen before, the introduction of The Ray, the return of Captain Cold (wearing his comicsverse visor, no less), and of course a massive team-up between a lot of different shows. We'll be seeing the heroes' evil doppelgangers of Earth-X, and this image also tells us a few of the people who survived the explosion in the season finale of Arrow.
The image is apparently by well-known comics artist Phil Jimenez. He brings an appropriately comic book aesthetic to the piece, which is fitting and nice to see.
The Ray will be starring in his own CW Seed series, but I didn't expect him to be crossing over in live action too. He'll be played in live action and voiced in the animated series by Russell Tovey.
So this is a lot to take in, and seems pretty epic! Who's looking forward to the crossover, and what do you find most (or least) intriguing about it? Share your thoughts here.
Share