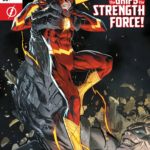 DC has released the official five-page preview for this week's issue of The Flash, and you can see it at The Beat. In it, we learn new details about Commander Cold's history as a law enforcement officer in the 25th century, and a few hints of what may have happened to the Trickster last issue. Check it out at the link!
THE FLASH #53
written by JOSHUA WILLIAMSON
art by CHRISTIAN DUCE
cover by DAN MORA
variant cover by FRANCESCO MATTINA
Then, it's a slippery slope for the Scarlet Speedster when he must team up with the frosty Commander Cold to stop a powered-up Trickster from trashing Central City. The Trickster's first target is the maximum-security prison Iron Heights, which could mean a criminal breakout the city would never survive.
ON SALE 08.22.18
$3.99 US | 32 PAGES
FC | RATED T
This issue will ship with two covers. Please see the order form for details.
Share