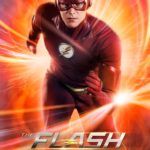 The CW has released a poster showing the new Flash costume we'll be seeing in the series' fifth season. The most notable change is the lack of a chinstrap, though there are other differences too; the fabric doesn't look the same, and it has a new texture. And Barry's looking a lot more world-weary here than he has in seasons past, which is interesting.
I didn't like the chinstrap when the show debuted, but the funny thing is that now the costume looks weird to me without it. I'll probably get used to it eventually, however.
What do other viewers think of the new costume? Are you liking Barry's new cowl and other outfit details, or are they not to your taste? Share your thoughts here!
Share