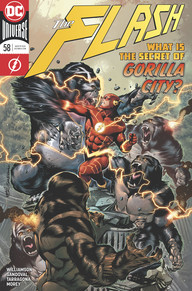 Barry has finally decided to take that Force Quest, going all over the world with Iris to unravel the mysteries of the new Forces. Barry wants to be the Fastest Man Alive again, but to do so he must explore the Speed Force, the Strength Force, the Sage Force, and the Still Force.  We've seen how these new forces can act…but we have a LOT to learn about what makes them tick. The Force Quest begins NOW!  Want to know more? Follow us after the jump!
SOME SPOILERS AHEAD!
For this issue, we'll give a very brief synopsis.  It starts with a quick intro to Barry and Iris' quest, along with an explanation of the various Forces in case new readers are picking up the series.
Barry and Iris are in Badhnisia to start this quest. For those who love DC History, this is the original home of Johnny Thunder's Thunderbolt, and a land filled with magical mysteries.  We don't catch anything like a "Cei U" on this trip, but we Do find a pair of thieves who are stealing artifacts from all over the world…artifacts that are connected to one or another of the forces.
Their code name is Gemini, and they seem to be able to draw power from these artifacts…enough power to at least temporarily win the battle against the Flash. Their real names are Belladonna and Santiago, and we will likely see them again throughout this Force Quest. For now, they have frustrated Barry's search, so they head off to the next stop in their quest, Gorilla City.
…but what they find in Gorilla City is a scene of absolute carnage. What could possibly have happened? And, are there still others who are on the same Force Quest? We'll have to wait for the next issue to find out!
NOTES:
Given that this does start a new arc, one that will likely be significant for Flash history, I get the quick history lesson.  Besides, we get to see just how many past Flash creators you can pack into an intro – turns out, quite a few, and that's pretty cool. Kudos to Joshua Williamson for this neat touch.
Just a note – even though the cover directly refers to Gorilla City and appears to show a battle there, we don't see that battle in this issue…and we don't even see Gorilla City until the last 1 1/2 pages (really the last splash page).  That means there may have been some changes to the pacing of the overall arc that didn't make it to the timing of the cover art…but that's a relatively minor thing here unless you bought the issue specifically to see Gorilla City.
This Gemini does not appear to be related to some previous single characters of that same name. If anyone does have a better handle on the history here please add that to the comments below.
The artwork this week comes from Rafa Sandoval (pencils), Jordi Tarragona (inks), and Tomeu Morey (colors).  I enjoyed the artwork throughout, with the exception of the occasional jutting chin for the Flash (it sort of gave a Crimson Chin vibe at times).  Still, the overall artwork was fine.
For a Silver Age fan like me, it is SO great to see Barry and Iris working together. Iris may recover more memories of her pre-Flashpoint life as we go forward…and if she does it may prove to be very important to the story line. We'll have to wait and see about that, though.
I'm warming up more and more to the new Forces, and I'm pretty excited about where this Force Quest will lead.
SUMMARY: It's a solid start to a very important story arc for The Flash. I'll give this first chapter an 8/10 – but that's my opinion.  What do YOU think? Leave your comments below!
Share