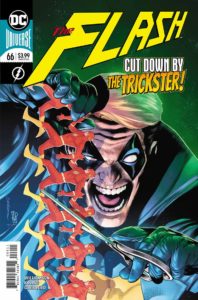 The Trickster – the original James Jesse Trickster – recently returned to Central City. He seems more dangerous than ever…but isn't he supposed to be dead? I mean, I know "dead" is a relative term in comics, but what happened here? How does his story fit into canon now? Don't worry, all questions will be answered as we bring the Trickster front and center in the latest issue of THE FLASH! Wanna know more? Follow us after the jump!
SPOILERS AHEAD!
This issue is a one-off feature on a classic member of the Rogues, combining elements of prior stories with just a twist here and there to bring things up to date. Trickster still comes from a family of circus aerialists, the Flying Jesses. In this case, his parents are also con artists…and terrible parents as well. We see several sequences from his childhood as a way of framing the story, featuring his fear of heights.
Jesse does eventually invent those famous shoes, and goes on his own crime spree. We get mentions of some prior tidbits of history, from his time with the Rogues to his brief stints as a private investigator and as someone working for the FBI. What we are missing is that famous death story that involved the Pied Piper dragging his lifeless body around. Nope, no dying here.
But, what DID happen to him? James Jesse was caught and taken to Iron Heights, where Warden Wolfe went on a campaign to break him. Wolfe wanted the world to forget Jesse ever existed…and to a large extent he succeeded. Those who did remember James Jesse thought him dead, and the rest just forgot about him entirely.
Now, he's back…and more dangerous than he has ever been. This original Trickster is ready to wreak some havok in Central City…but that's for another issue of THE FLASH, stay tuned for that.
NOTES:
If you are looking for a lot of The Flash in this issue of THE FLASH…that doesn't happen here. This is a true in-depth character study of the Trickster.
That said, this issue is a GREAT jumping on place for people who only know the Axel version of the character. You'll understand his backstory well enough to be up to speed, even if you are new to this old character.
While there are a lot of elements from prior stories that are here (a great nod to long time fans), the few twists in the backstory seem to work here as well. The explanation for his being missing all these years actually makes sense in continuity.
SUMMARY:
This was the kind of story that would fit well into an issue of the old SECRET ORIGINS series. It's a great primer on a character who is being reintroduced to the DCU. The story really doesn't do anything to advance the overall story arc for THE FLASH, but it does catch fans up who may not be as familiar with James Jesse. I give this one an 8/10 – but of course, that's just my opinion. What do YOU think? Leave your comments below!
Share