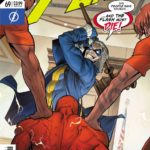 DC has released the official preview pages for Flash #69, which you can see at 13th Dimension. In it, you can see the fallout of last issue's cliffhanger, as well as what's going on in Central City during all of the Trickster's chaos. Check it out at the link!
THE FLASH #69
written by JOSHUA WILLIAMSON
art by SCOTT KOLINS
cover by DAN MORA
variant cover by MITCH GERADS
Riot in Central City! Trickster has pulled out all the stops in his assault on Flash's hometown, and the Scarlet Speedster is powerless to crack Trickster's code! Our hero is faced with an impossible choice: save the people of Central City—or let the villain who caused it all escape to wreak havoc another day!
ON SALE 04.24.19
$3.99 US | 32 PAGES
FC | RATED T
This issue will ship with two covers.
Please see the order form for details.
Share